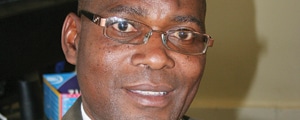 THE South African government has accepted the request for the Zimbabwe's High Court to conduct an inspection on the spot across the Limpopo as the diamond fraud trial of Core Mining director Lovemore Kurotwi and former Zimbabwe Mining Development Corporation chairperson Dominic Mubaiwa is set to resume soon.
CHARLES LAITON
The pair is accused of causing the government a $2 billion potential investment prejudice.
In a letter dated July 22, 2013 gleaned by NewsDay, chief law officer in the Attorney-General's Office Chris Mutangadura requested the Judicial Service Commission (JSC) to make arrangements for the travelling dates.
"Kindly be advised that the Republic of South Africa has given a go-ahead to the Zimbabwean delegation which includes the court and its officers to travel to South Africa to conduct an inspection in loco," the letter reads in part.
"May you kindly advise our office as to when your office will be most ready to have this travelling embarked upon?
"Our office is ready to travel to South Africa as soon as possible in line with the dictates of the attached Note Verbal. We kindly need your urgent response to enable us to communicate the dates of travelling to the Chief Magistrate (of) Kimberly who shall lead the inspection in loco."
Inspection in loco occurs when a court decides to make an on-the-spot inspection of the place where a crime or some other event connected with a case allegedly took place.
When the matter was adjourned last year, Kurotwi had submitted that he was opposed to the move by the State to conduct an inspection in loco in South Africa.
Through his lawyer, Beatrice Mtetwa, Kurotwi argued Core Mining was a registered company in South Africa and its other shareholders were deported from Zimbabwe.
Kurotwi further argued their (South African shareholders) deportation was not dealt with according to the law.
In her submissions, Mtetwa said due processes were supposed to have been followed by the government since South African citizens and property were entitled to protection of the law which would ensure that if any assets were taken by government, it was done according to the law.