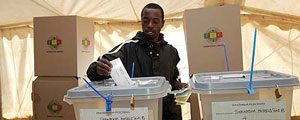 THE High Court yesterday blocked the Research and Advocacy Unit (RAU) from launching its detailed analysis of the voters' roll following an interdict application by Registrar- General Tobaiwa Mudede to stop the move.
REPORT BY VENERANDA LANGA
RAU director Kudakwashe Chitsike yesterday told journalists during a media briefing that his organisation was considering filing opposing papers to challenge the interdict.
"RAU has had to cancel the launch of this report because the Registrar-General at 8:17am left an interdict at our offices from the High Court to stop the event from going ahead at the Crowne Plaza (Hotel) the chosen venue, who (the hotel) were cited as the second respondents and were served at 8:30am," Chitsike said.
"RAU wishes to clarify that it never intended to launch a voters' roll, but was going to launch an analysis done on the voters roll."
The provisional order was granted by Justice Joseph Martin Mafusire.
Chitsike said the Zimbabwe Electoral Commission had been made aware of RAU's audit, adding the electoral body had even acknowledged receipt of the preliminary report.
"RAU also finds it unprocedural and an abuse of the justice system and court process the fact that we were not served with the application when it was filed with the High Court and that we only received it at the same time as the order for an interdict was delivered to RAU," Chitsike said.
Chitsike said she suspected that Mudede's application could have been triggered by several electoral irregularities cited in the report.
"We found that there are more people in 63 constituencies on the voters' roll and that there are over two million unregistered voters between ages 18 to 19 years. Those are irregularities that need to be sorted out before elections," she said.
Addressing journalists at RAU offices in Harare, Chitsike said Mudede had relied on an article published by NewsDay which stated that RAU intended to launch a full voters' roll. When it was put to her that the NewsDay story was based on an invite sent to all media houses, Chitsike later apologised for wrongly accusing the newspaper.
"I have confirmed with the person responsible for sending the invitation that it was indeed misleading as it stated we were launching the voters' roll as opposed to the launch of an audit of the voters' roll.
"I, therefore, apologise unreservedly for stating that you (NewsDay) erroneously published misleading information in yesterday's (Tuesday) paper as the mistake was clearly on our part," Chitsike said in a letter to NewsDay Editor-in-Chief Vincent Kahiya.