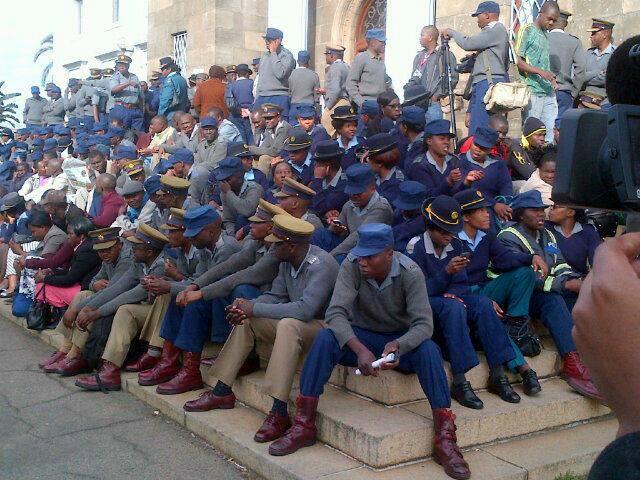 THOUSANDS of members of the uniformed forces and other civil servants who failed to cast their ballots in the just-ended two-day special voting window are no longer able to exercise their voting rights come July 31 because the law does not give them that alternative, NewsDay has learnt.
REPORT BY WONAI MASVINGISE
Section 81B:2 of the Electoral Act says: "A voter who has been authorised to cast a special vote shall not be entitled to vote in any other manner than by casting a special vote in terms of this Part."
The law flies in the face of assurances by the Zimbabwe Electoral Commission (Zec) that people who failed to vote due to logistical challenges and the chaos that rocked the process would be given a second chance to vote alongside ordinary citizens on July 31.
On Monday, Zec chairperson Justice Rita Makarau announced that the security personnel who did not vote during the special vote between July 14 and 15 would be allowed to vote when the rest of the electorate votes, a position legal experts dismissed as unlawful.
According to Zec, about 70 000 police officers had applied to be considered for special voting, but an undisclosed number failed to cast their vote due to several factors, including material shortages, in the voting process.
"At law, it is not permissible for the people who were supposed to cast their votes through the special ballot to vote again on July 31. If they were allowed to do so, it would make room for manipulation of votes either by way of a voter voting twice or fidgeting with the figures because the system is not properly controlled," Harare-based legal expert Chris Mhike said.
Tawanda Zhuwarara, a legal expert with the Zimbabwe Lawyers for Human Rights, told NewsDay yesterday that Zec was not authorised at law to make such a decision. "I am not sure which section of the Zimbabwe Electoral Act Zec is relying on. According to the Electoral Act, once a person has been approved for the special vote, he is automatically struck off the voters' roll. In terms of the law, once an individual has been issued authorisation to cast a special vote, that person, by operation of Section 81D subsection 3 of the Electoral Act, has to have his name removed from the voters' roll and his name will have a line drawn across it and it will be inscribed SV (special vote)," Zhuwarara said.
"Every individual authorised to vote under the special vote has his name struck off the voters' roll with a line that goes through it. They will then inscribe SV on the name. That means that person cannot vote under the normal voting procedure and this is done to avoid double voting."
Zhuwarara added that Zec was bound by the Electoral Act and so could not act outside of the dictates of the Act.
"Zec is a creature of statute and there is no law that says it can reverse the special voting authority. It cannot review its own decision because there is no law that authorises it to do so. Therefore, Zec cannot reverse its decision of giving the special vote. That situation has not changed. The person given the special vote has already proven that he will not be in the constituency where he normally resides on that day because he will be on duty elsewhere on that day," he said.
NewsDay contacted Zec director of public relations Shupikai Mashereni seeking an understanding of how the commission had come with the decision to give those that failed to vote a second chance through the ordinary voters' roll on July 31.
Mashereni asked for questions in writing which were sent to him through email.
When this reporter followed up on his response, Mashereni said he had referred the questions to Zec chief elections officer Lovemore Sekeramayi, promising that a response would be coming inside an hour.
After the lapse of the hour, Mashereni asked the reporter to call Zec deputy public relations officer Tendai Pamire whom he said was straightening out a few things on the response.
However, on being contacted, Pamire denied having received the questions from Mashereni or anything to do with our queries, suggesting that we resend him the questions which he said he could only attend to today because it was late.
NewsDay later called Mashereni again advising him of our discussion with Pamire, including that he had not received our questions at all.
Mashereni said the questions had indeed been received, but they needed a lot of consultation before a proper response could be issued.
Justice minister Patrick Chinamasa and Constitutional Affairs minister Eric Matinenga could not be reached for comment on the matter yesterday.
The MDC-T has already filed a court challenge demanding Zec to nullify the votes, alleging massive rigging.
Meanwhile, the MDC-T yesterday continued with its quest to bar members of the police Special Constabulary from participating in the harmonised elections under the special vote, arguing they were not attested members of the Zimbabwe Republic Police.
MDC-T lawyer Advocate Lewis Uriri, who is instructed by Harrison Nkomo, said his client had established that only 44 113 police officers were on the government payroll and as such the members of the special constabulary were not recognised as officers.
The matter was rolled over to today to allow the Attorney-General's Office to get instructions from it's client, the Ministry of Home Affairs.
Charles Nyika, who is representing Zec, said the special vote had been cast and it was no longer an issue except for the question of the numbers.