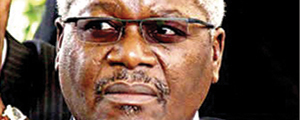 LOCAL government minister Ignatius Chombo yesterday directed local authorities to scrap all outstanding rates as at June 30 2013 in what observers view as an attempt at urban vote buying by Zanu PF.
MOSES MATENGA
Chombo said the move to scrap the rates was in line with Zanu PF's pro-poor policy championed by President Robert Mugabe.
"In terms of Section 133 of the Rural District Councils Act Chapter 29:13 as read with section 303 of the Urban Councils Act chapter 29:15 of Councils are directed to write off debts in respect of rentals, unit tax, development levy, refuse charges and water and sewer fees as at June 30, 2013. Similarly amounts owed by residents in respect of rates since February 2009 stand prescribed in terms of section 15 of the prescription Act," said Chombo.
Chombo urged Zesa to embrace the concessionary arrangement put in place in order to protect vulnerable members of the community.
"The foregoing depicts a situation where the odds are conspicuously against the rate payers. The scenario is contrary to the pro-poor policies as championed by President Mugabe," said Chombo.
"Poor management of MDC-T run urban local authorities, embarked on an unfettered disempowerment agenda by repossessing stands and houses from citizens who had outstanding bills," he said.