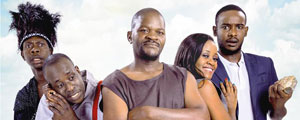 ENOCH Chihombori and his production team have succumbed to piracy and are now set to release the movie Gringo the Troublemaker today.
Report by Own Correspondent
The movie was pirated weeks after its release when Chihombori had decided to show it in cinemas around the country.
He said they had also managed to release it online to cater for viewers outside the country.
"We are making huge steps to try and make the film available to most Zimbabweans abroad and we have now gone ahead of schedule and released the film online on a pay-per-view basis as with the original DVDs starting selling on Friday (today) at $2," said Chihombori.
"On the pay-per-view system, we are in partnership with a Canada-based media organisation called Headlines Africa. They are the ones who have set up the system for viewers to access the movie."
He said they had initially not planned to release DVDs so as to recoup cash injected into the project, which amounts to around Chihombori $48 000. Chihombori said the pirating of the movie had given him more headaches than joy.
"I will be happy the day I know that I and my partners have managed to recover our invested funds," he said. "This film took me more than five years to prepare and it took someone just less than a minute to acquire and duplicate. It's very painful and it's just not worth it for us."