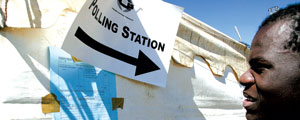 THE election campaign season is upon us and we have been entertained by politicians, especially President Robert Mugabe (Zanu PF), Prime Minister Morgan Tsvangirai (MDC-T) and Welshman Ncube (MDC), who are fighting for their political lives as the harmonised polls enter the home stretch.
NewsDay Editorial
It has been good entertainment as the politicians have attacked each other on age, looks, morals, religion and even coalition prospects. It has been riveting stuff and has provided good quotes for newspapers. Sadly, it has miserably lacked in substance and the voter has been left none the wiser on the parties' policy details after listening to the political gladiators holding forth.
Mugabe has had a number of star rallies in various towns including Chitungwiza, Mutare, Bulawayo and Marondera. The rallies have been more about Mugabe's lectures on history and attacks on the West, MDC-T and Tsvangirai and his party members who have rebelled to become independents.
Mugabe has failed dismally to talk in detail about the policies he is offering the electorate. Questions such as how the indigenisation policy will benefit the ordinary man and not just the elite remain unanswered. How will communities that do not have huge companies such as Zimplats and Mimosas in their backyard benefit from the community share ownership schemes? How is his party going to create jobs to reverse the unemployment scourge afflicting the country? Indeed, so many questions crying out for answers.
Tsvangirai has not fared any better as he criss-crossed the country. His rallies have been about how Mugabe must go, how Mugabe has impoverished the country and how he must go and rest. We have heard it all before. What the electorate has not been told is how his party's Juice (Jobs, Upliftment, Investment, Capital and the Environment) economic blueprint will be implemented. How will it bring about the envisaged one million jobs? What will he do in the first 100 days to bring respite to millions of suffering Zimbabweans?
Ncube has not been very helpful in his campaign rallies either. If it is not about devolution, it is about how he will not join Tsvangirai in a coalition. All well and good. But there is very little detail on how his policies will ameliorate the plethora of challenges the country faces, ranging from unemployment, liquidity constraints to de-industrialisation.
It is shocking that when Zimbabweans go to vote on Wednesday, they will be voting on the back of entertaining campaigns which are bankrupt on policy detail. It is sad that the leaders of the main political parties have failed to make use of the golden opportunity to sell their manifestos to the electorate, resorting instead to personality clashes and abusing religious groupings.
Mugabe, Tsvangirai and Ncube have failed miserably to make hay while the sun shines. Now we will see the consequences.