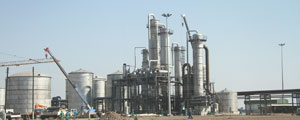 THE $600 million Green Fuel ethanol project has resumed production of anhydrous ethanol for blending with unleaded petrol at its plant in Chisumbanje, two years after it went idle as government contested its ownership structures.
Report by Staff Reporter
Production of ethanol at the plant was stopped in February 2011 after problems with government over the company's shareholding which was not in sync with the country's indigenisation programme.
In a statement yesterday, the company said: "This (development) comes after the company agreed with the government to form a joint venture adhering to Zimbabwe's indigenisation and economic empowerment laws of 51/49% and Statutory Instrument 17 of 2013 considering the commercial realities of the project.
"The development will ensure security of tenure for the 4 500 jobs created by the project to date, the continued expansion of the ethanol project and power generation into the national grid, as well as the expansion of the Out-growers Schemes at Chisumbanje and Middle Sabi, within which the local community has been incorporated."
The blending of ethanol with petrol is expected to reduce the price of petrol and in turn inflation as the cost of fuel has a domino effect on the prices of other commodities.