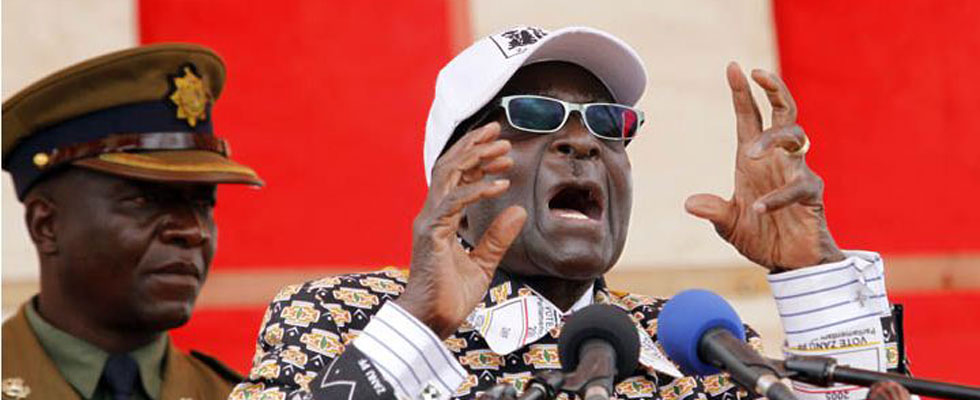 GWERU — Fifty-five Zanu PF supporters bussed from Gokwe-Chitekete were injured yesterday — some of them critically — after they fell off a lorry transporting them to President Robert Mugabe's campaign rally in Mkoba. REPORT BY BLESSED MHLANGA/STEPHEN CHADENGA
According to Gweru City Council's chief fire officer Emmanuel Mutsemwa, the accident occurred after the lorry's sideboards broke open at a roundabout near Thornhill High School outside the city, throwing the Zanu PF members onto the tarmac.
"Fifty-five people were injured, some of them critically, and they have since been admitted to Gweru General Hospital where they are getting medical assistance," he said.
Mutsemwa said a commuter omnibus which was following closely behind was hit by the truck's flying sideboards and its passengers were also injured.
Midlands police spokesperson Inspector Emmanuel Mahoko, who was also at the rally, could not immediately release details of the accident.
"I am not in the office at the moment and cannot give you the details as I am in Mkoba, but check with me later when I am back in the office," he said. Mahoko referred the matter to police spokesperson Senior Assistant Commissioner Charity Charamba, but the latter said she was out of her office. Efforts to contact her later were fruitless as her mobile phone went unanswered.
The accident comes hardly two weeks after a Chitungwiza Zanu PF supporter died in a stampede at Mugabe's campaign rally. In a related incident, yesterday an elderly Zanu PF female supporter, identified as Murai Gumbochuma, was rushed to hospital after she fractured her leg in a stampede at the rally while several others collapsed due to overcrowding.
In his address, Mugabe, who arrived at the rally shortly after midday, took the crowd down memory lane narrating the party's history and how they waged the liberation war. However, the speech was dotted with doses of his anti-gay mantra and attacks on the West and MDC-T leader Morgan Tsvangirai.
"What change do you want? Why are you not changing your skin colour to match that of your white masters and you are still following our women? Why not change and get the whites if you love them that much?" Mugabe queried.
Mugabe also accused Finance minister Tendai Biti of allegedly stealing half a billion dollars meant to resuscitate industrial production. "As we moved with them in the inclusive government, we later realised that these people were after self-enrichment. They were just taking money and building expensive houses, Biti was building a house in South Africa. He stole money that was given to Zimbabwe by the International Monetary Fund (IMF) to resuscitate industry," Mugabe said.
However, Biti yesterday scoffed at the allegations.
"It's cheap politicking from a tired party. The money from the IMF was used for industrial development for this country. Mugabe is the chairman of Cabinet and nothing can be done without Cabinet's approval," Biti said.
Mugabe also pledged to compensate the public for losses incurred following thedumping of the local currency, the Zimbabwe dollar, in 2009, and to review civil servants' salaries.
"If you still have them (Zimbabwe dollars), do not tear them up. Bring them back to us and we will see how much money we can give you (as compensation).
"Imagine myself as President I earn $3 000, when others earn $200 000. Fortunately for me and Amai Mugabe, we farm, we have our dairy business, we keep goats and this has helped us a lot to keep going. What about the rest of workers who have nothing? How do they survive? Surely workers should be given enough salaries.
We will raise their salaries . . . the same goes for teachers, civil servants and we don't promise things we will not fulfil," Mugabe said.