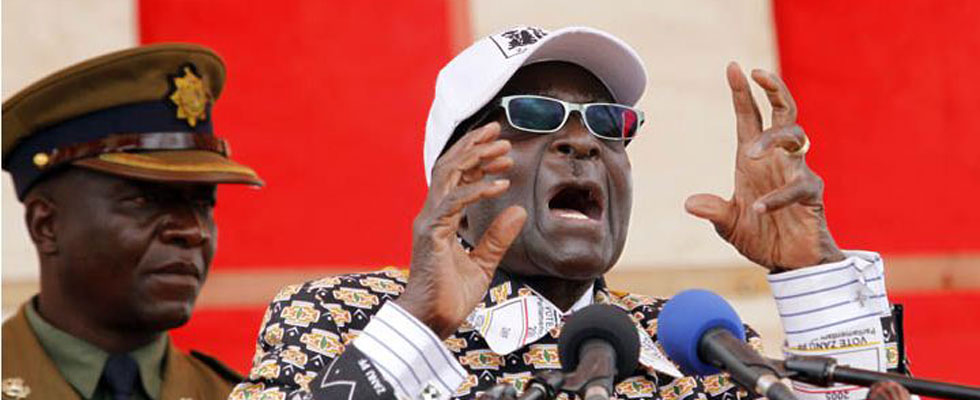 PRESIDENT Robert Mugabe yesterday pleaded with party supporters in Masvingo to convert their huge attendance figures at his campaign rallies into Zanu PF votes to have a one-party State, come the July 31 harmonised elections.
Report by Staff reporter
Addressing thousands of people near Mucheke Stadium, Masvingo, the 89-year-old Mugabe, fighting to cling to power against a formidable challenge from Prime Minister Morgan Tsvangirai, made a veiled threat to resort to war if his party is provoked.
Mugabe also attacked private media journalists, accusing them of siding with Tsvangirai's MDC-T party and took a dig at Zanu PF members who defiantly opted to stand as independents after being ordered to withdraw from the House of Assembly election race.
The Zanu PF leader asked the thousands of people who thronged the venue of the rally whether they would translate their numbers into votes, an indication that he was sceptical of his support base given the embarrassing defeat of 2008.
"We have always trusted you people of Masvingo, you are the backbone of the party, we will not be defeated in this province. In 2008, I was singing a song of one party State," Mugabe said in the Shona vernacular. "My goodness me! We lost the election. We lost 14 seats and got 12. What happened? What kind of animal is this?"
The President added: "What did we fail to do? We have people from here who died during the liberation struggle, some are still in the army. You have forgotten.
Have you forgotten that your children died liberating this country? In 2008, we had forgotten about all this. This province was no longer a one-party State. I am still ashamed by whathappened."
His utterances were echoed by his wife Grace who also warned: "If we are not clever, the one-party State will not come. We had the MDC in government, but we can't get used to it. On July 31, let's go and vote and let's choose what we want."
In the 2008, harmonised elections, Zanu PF won 12 out of the 26 contested seats in Masvingo province, with the MDC-T bagging 14 seats. Mugabe has always been supportive of the one-party rule and his bid to introduce the system in the late 1980s hit a brick wall following opposition from the party's then secretary-general Edgar Tekere. Tekere was eventually fired from Zanu PF in 1988 after opposing the drive towards a one-party State and condemning increasing corruption with the party and the government.
The new Constitution recognises multi-party democracy, but Zanu PF candidates were urging supporters to resoundingly vote Mugabe into power to enable them to amend the new governance charter.
On Wednesday, the 89-year-old veteran leader also made a passionate plea during a campaign rally in Norton for people to vote him to ensure a one-party system.
Turning to the private media, Mugabe said: "They (journalists) must have the conscience, that sense of honesty, that sense of truth. They say Mugabe rushed us to polls, yet we do not have a Parliament. That is the MDC and their stupid supportive media. Even if they do mistakes, journalists support the errors and are blinded. That is wrong journalism."
In apparent reference to the party rebels, Mugabe said: "We will not accept a person who is disobedient and wants to impose themselves on others. The President is not bigger than the party, I'm a child of the party, I was selected by the party. We just compete for the sake of it, we follow the rules of the party. I have spoken in riddles, but let those with ears here. They are two or three who think they are better than the party. The President is not greater than the party, he is a subordinate of the party. I am a son of the party."
Zanu PF members, among them Marian Chombo (Zvimba North), Munyaradzi Kereke (Bikita West) and Jonathan Samukange (Mudzi South), will stand as independent candidates at the July 31 polls.
Although Mugabe urged his supporters to remain peaceful, he made a veiled threat to go back to war if provoked.
"Let's demonstrate to the world and the British who thought there could be violence. Beware of that, but be patient. We know war; we can fight very well. So, no one can threaten us. These boys (MDC-T youths) who say police will be attacked, they did not get advice from their parents, we will just slap them in the face," he said.
Speaking at the same rally, Grace implored party members to vote Zanu PF and avoid a repeat of the 2008 scenario where the MDC-T won majority seats.
She later donated 50 tonnes of maize, 20 tonnes of sugar beans, and 1 200 cases of cooking oil to underprivileged members of the community in Masvingo.