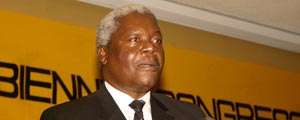 THE just-ended Zanu PF primary elections in Local Government minister Ignatius Chombo's Zvimba North constituency only attracted 1 600 voters, contrary to the party's claims that more than 5 000 people voted in the area, NewsDay investigations have shown.
REPORT BY HERBERT MOYO/ELIAS MAMBO
Sources claim Zanu PF — countrywide — inflated figures for its primaries.
Zvimba North primary election documents seen by this paper expose the rigging that took place as they showed that on average there were not more than 250 votes in 17 polling stations in the constituency.
According to official results Chombo garnered 6 382 votes.
"Less than 1 600 people voted in Zvimba north and these are the results per polling station. So where did (Chombo's) the people come from?" questioned one of the polling agents for Edwin Matibiri, who was challenging Chombo.
One document compiled in protest at the alleged inflation of voting figures stated: "We refused to sign for the results of the election because there was evidence of rigging.
"For example, Hunyani polling station only recorded a total of 44 voters, while Pindi Park had 149, Kanonwa 196, and Mvou 190. Windsor, which had the highest voters, only had 915."
Matibiri refused to comment on the matter, saying: "In-house Zanu PF issues cannot be discussed with the media."
Mashonaland West provincial chairperson John Mafa yesterday confirmed that the provincial executive had received "one or two complaints" which they had since forwarded to the National Elections Directorate.
"As you know, whenever elections are held, there will always be people challenging the results," Mafa said.
Hundreds of disgruntled Zanu PF members from various constituencies have besieged the party headquarters in Harare, protesting against irregularities in the just-ended primary elections, widening fissures in the former ruling party.