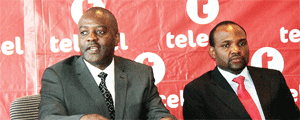 NewsDay Business Reporter Victoria Mtomba this week takes a look at the profile of Telecel Zimbabwe's former chief executive officer Francis Mawindi.
Mawindi is a qualified electrical engineer from the University of Zimbabwe and a holder of an MBA Degree with concentration in finance from Howard University in Washington DC, USA.
The ex-Telecel Zimbabwe boss was the head of business operations for Global Services at France Telecom Orange based in New York City, USA where he led the effort in the development, co-ordination and management of the business and strategic planning process for the Americas region encompassing North America and Latin America for Unified Communications and Collaborations Services and broadband communications for the multinationals business enterprise and institutional markets.
He was also the general manager for Bright Point, an outsourcing company operating within the supply chain of the telecommunications industry, where he led the implementation of a Greenfield telecom project.
Mawindi also worked for the then Posts and Telecommunications Corporation in Zimbabwe, now TelOne. He was part of the project leadership team that oversaw the implementation of the country's wide billion dollar digitalisation project in the early 1990s.
He worked for Verizon a global telecommunications giant, where he supported a regional business development drive, a $500 million per year Federal Intelligence communications business portfolio with a total addressable market of $44 billion with operations in North America, Latin America, Europe and Africa.
Before, the former Telecel CEO worked for Sprint, the third largest mobile operator in the United States where he was part of the team that developed and implemented a $4billion project for the provision of mobile broadband telecommunications services. He was hunted from United States of America by Odgers Berndston, a global executive search firm  on behalf of Telecel Zimbabwe.
Odgers Berndtson provides an extensive range of high level and executive search, management assessment and international assignments.
Mawindi joined Telecel Zimbabwe in July 2012 and had ushered the company to success. He led the effort in repositioning the company as a strong challenger to the dominant player through the establishment and operationalisation of a solid blueprint and roadmap that increased the company's market share to 30% from 21% at the beginning of the year. EBIDTA for the group increased to 30% by 2012.
Through his leadership, Telecel has managed to enhance its network coverage and the development of Mobile financial services to compete with EcoCash. Hence Telecel's population coverage increased to 85% from 70%. During his tenure in office, Telecel subscriber base grew significantly to two million.
He also created and unlocked value for Telecel by delivering to the company opportunities for the establishment of new, cost effective and efficient wholesale and niche carrier and interconnection partnerships with global players for revenue maximisation and cost optimisation.
This has resulted in new strategic partnerships in the wholesale and interconnection space especially for global traffic management with world renowned global wholesale voice carriers such as TATA Communications, BICS and Telenor as well as niche route carriers for continental Africa such as TeleUnity.
A new call centre was commissioned that can respond to customer's queries to improve customer handling capabilities.