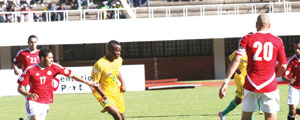 WARRIORS midfielder Archford "Uche" Gutu has remained resolute in his belief that Zimbabwe can bounce back from the disappointment of exiting the 2014 Brazil World Cup and become a strong team for future football campaigns. Henry Mhara/Tawanda Tafirenyika
Zimbabwe's 4-2 defeat at home to Egypt on Sunday means the Warriors have one point in Group G from four matches and are effectively out of the race for the Brazil ticket. Egypt winger Mohamed Salah was the chief tormentor of the Warriors as he banged a hat-trick past Washington Arubi, to add on to Mohammed Abou Treka's effort. For the Warriors, it was that man again Knowledge Musona who had cancelled out Abou Treka's early opener before Lincoln Zvasiya headed in his first goal at senior level late in the match. Gutu, who was substituted late in the game for Ovidy Karuru, remains full of enthusiasm and determination that coach Klaus Dieter Pagels' project will come right. "We can't single out individuals for the defeat," Gutu said. "We failed as a team and every member should take the blame. The squad is OK, but I think we didn't do enough as a team. It was unfortunate, but we have to remain united as a team. There are areas that need to be corrected. The coach is the right person for the job." The Sweden-based midfielder added: "We understand what it means to lose the match for the supporters, but all the players are equally disappointed. I think this team needs time. This campaign is gone and I think we should start to prepare for future campaigns. The foundation looks promising."
Pagels blamed his defence for giving away the three points to Egypt.
Chicken Inn defender Felix Chindungwe, on his debut in a competitive match in the senior team, looked overwhelmed by the occasion and was to blame for Egypt's second goal when he let the ball bounce in front of him to allow Salah to sneak behind and score.
Pagels had to withdraw the dreadlocked player and move Patson Jaure back to the centre to partner Lincoln Zvasiya while Hardlife Zvirekwi was shifted to the right-back position.
But because Jaure and Zvasiya had not partnered at training sessions, they were bound to make mistakes. They were at fault for the fourth goal.
While the defenders played their part in the defeat, composure in front of goal was also a factor.
Zimbabwe created enough chances especially in the second half, but the midfielders and strikers tended to be over elaborate in forward areas, allowing Egypt to regroup and defend.
The Warriors squad trooped back into camp last night after a day off yesterday to begin preparations for a dead rubber away in Guinea on Sunday. The Warriors are expected to leave between tomorrow and Thursday.
Team manager Sharif Mussa last night said: "The 24 players will remain in camp and will train tomorrow (today). The squad will be trimmed to 18 after the training sessions here. We expect to leave either on Wednesday (tomorrow) or Thursday."
Meanwhile, even after thumping Zimbabwe 4-2 and being on top of their group with 12 points, former Egypt players were still not happy.
Supersport.com spoke with many former international players and many of them indicated that they were not happy with the way that the Pharaohs played at the National Sports Stadium in Harare on Sunday.
Ahmed Shboer, the former goalie of the Egypt team who played in the 1990 World Cup, said: "We won the match, but we had a lot of problems with our defence and we have to fix this before we meet Mozambique and Guinea.
"If we didn't have Mohammed Salah and Mohammed Abu Trika, I think we would be in dire straits."
Former Zamalek defender Ashraf Kasem said: "There is no harmony between the trio of defenders consisting of Wael Gomaa, Ahmed Hegazy and Mahmoud Fathallah. (Coach Bob) Bradley changed his tactics only one day before the match and that was obvious in the way they played."
Egypt will hold a short camp in South Africa before their next clash against Mozambique on Sunday.
Related Topics