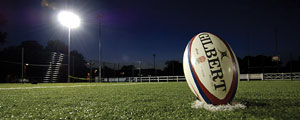 FORMER Zimbabwe Sevens coach Liam Middleton has backed the national sevens side to shine at next week's IRB Rugby World Sevens in Moscow, Russia.
DANIEL NHAKANISO
The England-based coach, who was part of the Cheetahs camp ahead of the team announcement on Thursday, said the future of sevens rugby in Zimbabwe was bright, adding that he was impressed by the amount of depth in the side.
"I believe it's a very strong side and I'm confident they will do very well in Russia. The boys have been together for some time now and have put in the hard work in improving their game hopefully they will be rewarded by doing well at the World Cup.
"There are a lot of other good players who were part of the training squad who unfortunately couldn't make the final squad of 12 players. I believe that proves our pool of talented players has increased which is good for the competition and a sign that the future is definitely very bright," the former Bristol RFC head coach said.
Middleton, who led the team to the Bowl title at the last edition of the IRB Rugby World Cup Sevens in Dubai four years ago, will, however, not be part of the travelling party to Russia as he heads back to his base in England.
The Cheetahs, as the Zimbabwe Sevens side is affectionately known, leave the country for Russia tomorrow, ahead of the start of the global showpiece on Friday.
Following a disappointing performance at the IRB World Series qualifiers in London in May, the Cheetahs will be hoping to redeem themselves with a good performance in Russia.
The IRB Rugby World Cup Sevens tournament in Russia is also going to be the last global showpiece for six veteran players in the side namely Tangai Nemadire, Daniel Hondo, Jacques Leitao, Wensley Mbanje, Gardner Nechironga and Fortune Chipendo and they will no doubt be keen to bow out on a high.
Zimbabwe are in Pool C together with Samoa, Kenya and Philippines. Giants, Kenya and Samoa, whose major strength lie in their power and physique are expected to pose a tough challenge to the Cheetahs' hopes of reaching the Cup quarterfinals.
Zimbabwe, however, have always relied more on their skill and pace as well as the big match temperament of their veteran players to carry the day.