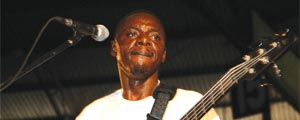 BARELY a week after Alick Macheso announced he did not need chanters in his band after the departure of Jonasi Kasamba, the musician has made a U-turn.
Own Correspondent
Macheso accused Kasamba of making a lot of noise during performances and said he would not replace the departed chanter.
But last weekend Macheso introduced new chanter Zhili Mumbamulapi at his shows.
The former Real Sounds of Africa chanter was first introduced on Friday at Pamuzinda Highway X-scape where the musician had a show. The new chanter is still to make his presence felt in the band because his first days in office were pathetic.
He had to be told what to do by other band members.
Speaking to NewsDay, Macheso's assistant manager Jatiel Machanja said the new chanter is still on probation.
"He (Macheso) is an artiste and he is the one who decides if he can take him or not, but for now we haven't yet made any agreement with the new chanter," Machanja said.