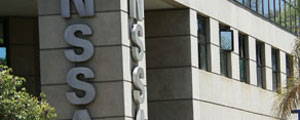 NATIONAL Social Security Authority (Nssa) will next week convene a board meeting to discuss recapitalisation plans of financial institutions it holds interest in ahead of the June 30 2013 deadline.
Report by Victoria Mtomba
Nssa has 22% interest in FBC holdings, ZB Bank, Interfin Bank Limited and Capital Bank.
The organisation's general manager James Matiza said: "We will have a board meeting on the 26th of June and these are some of the issues that we will be discussing."
The Reserve Bank of Zimbabwe (RBZ) set new capital requirements last June compelling commercial and merchant banks to top up their capital thresholds to $100 million.
Financial institutions were expected to comply with the new minimum capital requirements by June 2014.
The financial institutions were, however, supposed to show up a minimum capital of $25 million by December 31 last year, $50 million by June 30 this year and $75 million by year-end.
FBC Building Society, Capital Bank and ZB Bank were yet to comply with the directive, while Interfin Bank is still under curatorship.
FBC Holdings Limited chief executive John Mushayavanhu said it would delay the merging of its sub units FBC Bank and FBC Building Society although preparatory work was already underway as they wanted to continue to enjoy the non-tax benefits of the building society.
Mushayavanhu told analyst at the firm's analyst briefing in March this year that the group posted an increase in profit of 25% for the year 2012 $15,6 million due to the non-taxing of FBC Building society.
Currently, building societies in the country were not taxed by the central bank.
"We will be merging the bank and the building society to meet the minimum capital requirements. Preparatory work is in progress. We will do it even on the midnight of June 30. We will take our time," Mushayavanhu said.
ZB Holdings, the parent company for ZB Bank, recently published a cautionary statement showing that the group was in negotiations with a suitable suitor.
RBZ governor Gideon Gono recently said the previously stated banking sector capitalisation deadlines would be adjusted to take into account the said fundamental developments.
"The details in this regard will be unveiled through the forthcoming Mid Term Monetary Policy statement due before the end of July 2013.Meanwhile, and in the interests of maintaining financial stability, the Reserve Bank continues to monitor the performance and conduct of banking institutions and efforts to address capitalisation, corporate governance and other regulatory issues in the sector will continue," Gono said.