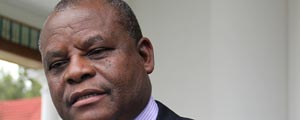 BULAWAYO South MP Eddie Cross (MDC-T) yesterday revealed there is a serious fight over the estate of the late Agriculture deputy minister Seiso Moyo, who was also in the MDC-T.
SENIOR PARLIAMENTARY REPORTER
The fight, he said, was between the deceased's two wives and the reason was that the late Nketa MP had not left a will.
Cross made the revelations in the House of Assembly as MPs passed their condolences on Moyo.
"I would like to say that Moyo's wife is in distress because he died without writing a will and because he had two wives — a legal wife and another he married in the traditional way — his family was not protected," said Cross. "He had cattle, vehicles, a house and some significant financial resources and on the day he died everything was frozen and his extended family descended on his wife who works in Gaborone, Botswana, and one vehicle disappeared," he said.
Cross told the House that he had to intervene because the children were also suffering after their late father's accounts were frozen.
"In Seiso's case, there were two women involved and five children all going to school and there are two girls going to university in South Africa.
They had to have their fees paid, but because the accounts were frozen, the party (MDC-T)  had to assist to have their fees paid.
"The girls are both world- class students with the eldest daughter being one of the most outstanding students in South Africa.  Their careers are threatened," he said.