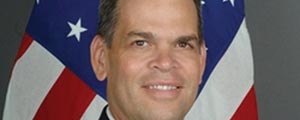 United States ambassadors to Zimbabwe and Zambia, Bruce Wharton and Mark Storella, will embark on a cross-border bike ride to promote international tourism, economic growth, and wildlife conservation in the two countries next week.
STAFF REPORTER
The US embassy said in a statement yesterday that Wharton and Storella would lead a delegation of cyclists to include comedian Carl Joshua Ncube and ZiFM DJ Lorraine Bgoya.
Current Miss USA Nana Meriweather is expected to join the cyclists in Zambia. The US embassy said the trip would be held to promote tourism in Zimbabwe and Zambia ahead of the United Nations World Tourism Organisation General Assembly to be co-hosted by the two countries in August this year.
"Zimbabwe and Zambia share one of the great natural wonders of the world: Victoria Falls," Wharton said.
The tour will begin in Zambia on Tuesday next week and end on the Zimbabwe side of Victoria Falls on Thursday.
"The two diplomats and their group will bicycle through Livingstone and Victoria Falls, visiting the national parks on both sides of the border, learning about snare-clearing and endangered vultures, and meeting with disabled handicraft makers," the US embassy said.
"They will also meet local government officials, tour a US government-funded family planning clinic, and visit the medical clinic that assists American tourists in the unfortunate need of medical evacuation."