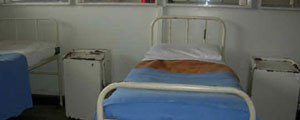 A LOCAL organisation in Umzingwane, Matabeleland South, is set to revive a clinic project that was abandoned more than 20 years ago due to political squabbles.
Own Correspondent
The Umzingwane Rural District Council Ward 8 Habakkuk Trust community advocacy action team, which was recently trained in advocacy, human rights and development, came up with the idea to revive the clinic after it was realised that villagers were travelling long distances to seek health services from the nearest health institutions with women being the worst affected.
In a statement,  the action team said it had agreed to put projects that developed the community ahead of political differences that divided them.
Umzingwane action team convenor Gelot Moyo said the project had been brought to a standstill because it was politicised.
"We have long since abandoned it though the site was pegged and the plan is there at the council offices," he said.
"We have all agreed that political differences have not benefited us as we still travel more than 25 kilometres to the nearest health institution." This resolution to start working on the project again was made during a Habakkuk Trust-organised action team meeting meant to identify and prioritise community advocacy initiatives.
The team said community development had stalled in the last two decades due to the absence of a clinic.
They said qualified teachers were avoiding the area because of lack of health facilities.
The team agreed to follow up on the plan and mobilise the community to contribute needed equipment, materials and money towards the project.
They have also identified business people, local schools and churches to make contributions to the development.
Umzingwane clinic project is one of the projects in the province where rural communities have used local resources to complete vital services and infrastructure that was left incomplete by local authorities.