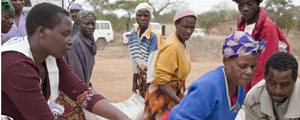 PRESIDENT Robert Mugabe has repeatedly rubbished concerns that the country does not have money for elections, insisting that polls should be held soon, yet, ironically, on Sunday he admitted that Zimbabwe did not have money to pay for 150 000 tonnes of maize imports from Zambia.
Report by Nqobile Bhebhe
Mugabe's admission that the government did not have money to import grain has raised questions about whether the country can afford to hold elections, which the President and his Zanu PF party want held this year.
Political analysts yesterday said while elections were important, the country should prioritise food imports, with reports that many provinces were likely to face food shortages.
"It is another classic example of misplaced priorities by our government," Dumisani Nkomo of Habakuk Trust said. "People need food as a matter of urgency. Elections can wait."
Nkomo said it was worrying that there was more focus on elections instead of food imports.
"If people do not get food now they will die of hunger, which will become a huge humanitarian crisis, but no one will die if there are no elections," he said. "It is proper to get food than wait for people to start dying."
Nkomo said there were several electoral processes that needed to be attended to, while polls could be deferred to September or October, instead of June, which Mugabe is pushing for.
Gilbert Maphosa, a college lecturer, said it was hypocritical for Mugabe to push for elections yet the country could not afford to import maize.
"Mugabe's obsession in forcing elections down everyone's throat on one end and begging Zambia for food aid at the same time exposes how his priorities are structured, the bottom line of which is a need to retain power," he said.
"Serving the people is a claim he makes for the sake of politics, but the truth is that his priorities are guided by a desperate fight for political survival." MDC spokesman Nhlanhla Dube said the country could not afford to have the food importation bill competing with funds for elections.
"We have said it a million times that elections in June are not possible," he said. "What Mugabe is saying is only a political statement and not a statement relating to facts.
"The call for June elections is only meant to keep Zanu PF supporters active in mobilising their structures and keeping them in election spirit."
Dube said it was "dangerous" for government to announce that it did not have sufficient funds for food importation while insisting that elections would be conducted soon.
"Maize is our staple food and it is dangerous for one to make an announcement that there is no money for food imports," the MDC spokesman added.
"It was clear from the onset of the rainy season that yields would be low due to change in rainfall patterns." Most of Matabeleland South and Masvingo are already in the grip of a drought, with officials in those provinces pleading for food aid.
In other provinces, Zanu PF is accused of using food aid to buy votes.