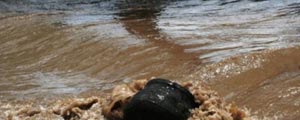 BULAWAYO City Council is conducting joint operations with the police to weed out gold panners and sand poachers causing siltation at Lower Ncema Dam.
Report by Nqobani Ndlovu
Council enlisted the services of the police following realisation that its rangers and municipal police were losing the fight against the artisanal miners and sand poachers.
Concern had been raised amongst councillors that gold panning and sand poaching activities, if not stopped, would result in the dam being decommissioned earlier than anticipated.
Lower Ncema — a key supply dam for Bulawayo — is 38% full and reportedly has alluvial gold deposits. Latest council minutes reveal that the joint operation against gold panning is beginning to yield results as shown by the arrest of nine gold planners in March.
Police and council rangers also confiscated vehicles and a number of machinery belonging to the gold panners and sand poachers.
"At Ncema, joint operations are still continuing and the number of arrests of gold panners increased from eight last month to nine in March," latest council minutes reveal.
"The redeployment of rangers at Ncema has been done and completed. Patrols have been intensified in the affected areas at Ncema and Umzingwane."
The confiscated machinery and vehicles include six trucks, six scotch carts, two jacks, 15 shovels, six wheel barrows, 12 clippers, 11 axes, three diggers, one hoe, two bicycles, one printer, one camera, three spare wheels, nine spanners, six crowbars and five picks.
Councillors, in interviews with NewsDay yesterday called for stiffer penalties against gold panning to weed out the practice causing siltation at the Lower Ncema Dam. However, Councillor Martin Moyo was of the view that creation of jobs "is the only solution to eradicate gold panning and sand poaching at the dam".
"Policing alone will never eradicate this problem we face as a city," he said. "A complete change of our economic environment and the creation of jobs is the only answer.
"They are there (gold panners and sand poachers) because there are no jobs." Gold panning has been blamed for causing siltation, which reduces Bulawayo's supply dams' holding capacity leading to water shortages in the city.