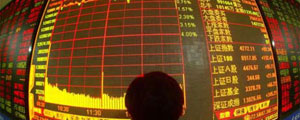 CHINA — China's exports and imports grew more than expected in April, offering the possibility of a better outlook for the world's second-largest economy, but the figures failed to put an end to scepticism that financial manoeuvering by exporters and speculative capital inflows are masking weakness in real demand.
Reuters
China's exports rose 14,7% in April, while imports grew 16,8%, leaving the country with a trade surplus of $18,16 billion for the month, the Customs Administration said yesterday.
That compared with market expectations for a 10,3% rise in exports, a 13,9% increase in imports and a trade surplus of $15,1 billion.
From a month earlier, exports edged up 2,7% while imports fell 7,7%.
Chinese export data in recent months has seemed to signal to a gradual revival of external demand, though some analysts suspect exporters may have overstated their business to sneak funds into the country and avoid capital restrictions.
"I have no strong conviction whether the data reflects reality. We'll focus on next Monday's activities data," said Zhiwei Zhang, chief China economist at Nomura in Hong Kong.
"China's Safe recently launched new rules to crack down against capital inflows disguised as trade payments. I'm suspicious about the trade data," Zhang said, referring to the State Administration of Foreign Exchange.
The regulator released new rules on Sunday to crack down on hot money inflows disguised as trade payments.
A Reuters estimate of hot money flows based on official data indicates that $181 billion in speculative cash entered China in the first quarter, fuelled in part by loose monetary policy from the United States and Europe.
Signs of weakness Adding to the scepticism over the trade data, a pair of PMI surveys last week showed growth in China's vast factory sector eased in April as new export orders shrank. However, in the trade figures, manufacturers were among the sectors reporting increases in exports in the month.
In addition, the customs figures showed a 57% jump in exports to Hong Kong and a 250% rise in exports to bonded areas, adding weight to theories that goods are not being exported to final destinations.
"In 1Q13, China's export data were heavily distorted due to over-reporting by exporters who might bring in hot money through fake exports and arbitrage the differential between CNH/USD and CNY/USD by moving goods in and out of HK," Bank of America Merrill Lynch economist Ting Lu wrote in a report of yesterday's data, referring to offshore and onshore yuan currency rates.
"The evidence includes the abnormally strong exports to bonded areas and Hong Kong." Spot onshore yuan hit a fresh record high of 6 1424 per dollar yesterday, on strong corporate demand and expectations of further policy reforms to liberalise the exchange rate.