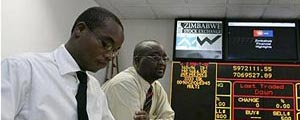 THE hunt for a new Zimbabwe Stock Exchange (ZSE) chief executive officer has intensified after it emerged that a local human resources consultancy last week interviewed several prospective candidates in Harare in search of a new boss to replace Emmanuel Munyukwi.
Report by Bernard Mpofu
Following Munyuki's suspension last May on charges of incompetence, the ZSE board appointed ZSE operations executive Martin Matanda to act as chief executive. The board has since resolved the labour dispute with the former ZSE boss, paving way for the recruitment.
"CV People (consultancy firm) which has been tasked by the ZSE board last week carried out interviews for the new chief executive officer and indications are that Munyuki's successor will be announced soon," a source close to the developments said. Munyuki's suspension came a year after a group of resentful stockbrokers convened an extraordinary general meeting where they expressed displeasure at the state of affairs at the exchange.
Market speculation had linked veteran stockbroker Geoffrey Mhlanga as one of the front-runners for the top post at the bourse, a development that he denies. Mhlanga is currently the managing director of brokerage firm Bethel Equities and he says such an appointment would be a "conflict of interests".
Apart from Mhlanga, Bart Mswaka, managing director of the now defunct ReNaissance Securities, according to sources, has also been tipped for the post. Mswaka could not be reached for comment.
ZSE board chairperson Eve Gadzikwa could not be reached for comment as her mobile phone continued to ring unanswered.
Sources told NewsDay that the exchange is expected to announce the new ZSE chief executive in July. The new CEO will implement several reforms such as modernisation of the trading platform.
The ZSE currently utilises a call-over system to execute trades. Critics say paper-based operations of the exchange were fraught with inherent risks. Clearance and settlement is done between stockbrokers with payment against delivery of physical scrip on a T+7 calendar-days basis.
The developments also come at a time when government gazetted a new statutory instrument giving legal effect to the setting-up of the country's first ever Central Securities Depository as capital markets embark on far-reaching reforms.