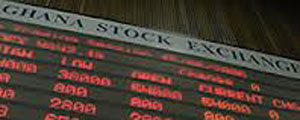 ACCRA — Ghana's bourse is up more than 50% so far this year, but the reluctance of key companies to list on the West African market may be blunting its economic impact.
Reuters
The country is the world's second biggest cocoa producer and the continent's number two gold miner after South Africa. It began producing oil in 2010 and investors, accordingly, have paid increasing attention.
But only 34 companies are listed on the primary market and that lack of participation deprives firms of access to capital that could generate growth, employment and tax revenue.
At the same time, few small- and medium-sized companies list because they are wary of the scrutiny it would entail, regulators and bourse authorities said in interviews.
"We have been successful to some extent, but we still have not become very visible in the development of the economy. To be able to do that we need to get more companies raising money using the capital market," Ekow Afedzie, deputy managing director of the Ghana Stock Exchange, said.
The Securities and Exchange Commission (SEC), for example, wants to see high-profile companies such as Coca Cola, Vodafone and oil company Kosmos Energy list locally as well as the national Agricultural Development Bank (ADB)
But it is the bond market that, to date, is seen as a more attractive source of capital for some companies, along with private sources of finance.
Afedzie said commitment by policy makers would drive the stock market, arguing that government was still reluctant to release its stake in major companies such as the ADB, which has delayed plans to list.
SEC director general Adu Antwi, meanwhile, argues that government of President John Mahama should institute a local content policy under which all companies operating in certain sectors would be required to list some of their shares.
The bourse's most prominent companies include one of Africa's largest miners, AngloGold Ashanti, Tullow Oil Ghana, which operates the Jubilee oil field and Pan-African lender Ecobank.
So Ghana's share market has been doing very well. It yielded returns in 2012 of 23,8% led by the financial sector.
So far in 2013, the exchange is up 52,6%, spurred by a boom in Ghana's economy which enjoyed a rise in GDP to 15% in 2011 after oil came onstream, making it Africa's fastest growing.
But a comparison with other indexes in the continent shows s the relative lack of size of the exchange.