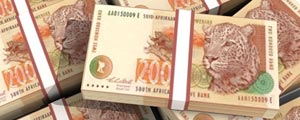 JOHANNESBURG — Economists are keeping their growth forecasts subdued for South Africa ahead of tough wage negotiations after last year's deadly bargaining tussle capped growth for Africa's biggest economy, a Reuters poll found on Thursday.
Report by Reuters
Despite an improving global economic environment, forecasters remain wary of the impact of strikes as last year's labour unrest killed over 50 people, crippled mining output, undermined growth and triggered rating downgrades.
The poll taken during the course of last week saw the median for economic growth unchanged from last month at 2,6% for this year, 3,3% next year and 3,6% in 2015. The most pessimistic view is 2,3% for this year.
"We believe that there are downside risks to our growth forecast and upside risks to the current account deficit if there is significant strike activity, particularly in the mining sector," said Peter Worthington, economist at Absa Capital.
"(A) challenge for fiscal policymakers is the endless waves of disruptive strike action, and the impact this has on GDP growth," said Colen Garrow, economist at Meganomics. The poll sees the deficit narrowing to 5,9% of GDP this year and to 5,7% in 2014 and into 2015.
Garrow added that as a consequence of the strikes, authorities were put in a compromising position resulting in a wide range of key financial stability ratios.
Inflation is expected to remain below the South African Reserve Bank ceiling of 6% — the forecast for this year is unchanged from last month at an annual average 5,8%. It will ease to 5,4% next year.
Oil prices have been hovering around $100 a barrel and will probably do so for the next two years according to a Reuters survey taken after analysts slashed their forecasts for crude to reflect ample supply and sluggish economic growth.
"If you look at commodity prices a year ago, they were quite high, we think that will come through (ease inflation), demand remains fairly weak, and so we do not see much pressure from a demand side," said Salome Odendaal, economist at Citadel.
Interest rates are seen unchanged at the four-decade low of 5,0% this year, increasing by 50 basis points next year and another 50 points in 2015, with only two economists seeing rates ending this year lower at 4,5%.