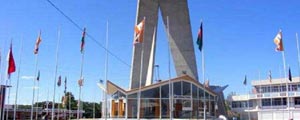 THE Zimbabwe International Trade Fair (ZITF) exhibition centre was  a hive of activity  yesterday with exhibitors making last-minute preparations at their stands while scores of people were seeking menial jobs. Senior Reporter
The annual trade exhibition starts today and runs until Saturday under the theme Building Value, Enhancing Growth.
Activity kicked off  yesterday with a two-day water investment conference that attracted government officials and a South African trade delegation led by Trade and Industry deputy minister Elizabeth Thabethe.
Local and foreign exhibitors were seen making-last minute preparations and some raised concern on the availability of electricity. In the past years, power cuts were experienced at regular intervals during the entire exhibition.
Foreign countries that have confirmed participation include Brazil, People's Republic of China, Ghana, Indonesia, Italy, Kenya, Malawi, Mozambique, Namibia, Pakistan, Poland, Russia, South Africa and Tanzania. Preparations suffered a glitch amid reports that materials procured in South Africa where detained at Beitbridge border post by Zimra officials.
The materials are to be used to partition stands for exhibitors. ZITF Company chairman Bekithemba Nkomo last week told reporters that they had bought new stand building materials.
"We are pleased to announce that this year we purchased new stand building material in a bid to be self-sufficient and eliminate hire costs," he said.
Yesterday several exhibitors told NewsDay that they were still to be allocated partitioning materials.
"We are just sitting waiting to be given the materials. We are running late as we are told materials to separate halls were held up in Beitbridge" said one local exhibitor.
It is understood that at least two containers were held up in Beitbridge and were only released on Sunday. ZITF deputy general manager Noma Ndlovu had not responded to questions sent to her at the time of going to print.
At the main exhibition entrance scores of job seekers were milling around hoping to be hired.