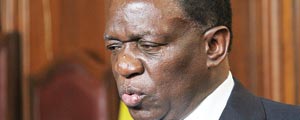 KWEKWE — A group of former liberation war fighters led by Retired Army Captain David Juro has compiled a 45-page document alleging internal strife, candidate imposition and meddling by the Central Intelligence Organisation (CIO) in Zanu PF Midlands provincial politics.
Report by Blessed Mhlanga
Juro, an influential war veteran, alleges in his document that when Zanu PF disbanded its district co-ordinating committees (DCCs), it effectively pre-empted an impending internal party rebellion which would have posed an unspecified threat to the Presidium.
"This strategic political decision pre-empted an impending rebellion in the Midlands province where there is serious factionalism and regionalism . . . that decision has left those who wanted to politically and corruptly cash in on imposition of candidates in disarray," reads part of the document.
Among those accused of fanning factional violence and imposing candidates are the party's provincial secretary for security Owen "Mudha" Ncube, Maxwell Madharani and central committee member Douglas Tapfumanei. "They are the main instruments by which violence is operationalised by Ncube, Madharani and Tapfumanei. These have the exclusive authority to unleash violence and intimidation against those who oppose imposition of candidates.
"This tactic of imposition and violence was used during the DCC elections where some of us were threatened with disappearances," reads the document.
Juro claims that Ncube has amassed massive wealth and power within the province while winning the hearts and minds of top Zanu PF leaders, including Defence minister Emmerson Mnangagwa.
"He is one of the richest and most powerful persons . . . where his source of power and riches come from, we don't know. He moves around with a youth league escort whose purpose is to organise violence against perceived political enemies."
The document alleges that Ncube has openly attacked Vice-President Joice Mujuru, describing her as unfit to rule.
"On September 29 (2012), a group of the Mudha youth brigade arrived at shop 860 in Mbizo 5 and menacingly charged at the people there chanting pasi naMai Mujuru, pasi ne top 4 (Down with Mujuru, down with top 4) . . . I asked a member of the CIO what they had done with those chanting those slogans and I was told they were warned and cautioned, but he did not tell me by whom," reads the document.
"Ncube is so obsessed with power that he thinks there is no other political authority above his godfather (Emmerson Mnangagwa) who has funded his travel recently to Iran, China and Russia."
Contacted for comment, Tapfumanei, Madharani and Ncube dismissed the allegations as meant to tarnish their political image, adding they had taken the matter to their lawyer Valentine Mutatu to press defamation charges against Juro.
"We have received the document and we are going through it at the moment. Until we receive further instructions from our clients, this is all we can confirm," said the trio's lawyer, Mutatu.
Two months ago, Zanu PF's former Kwekwe Rural DCC chairman George Makombe landed himself in trouble after he made similar allegations against the three. Makombe now faces a $10 000 defamation lawsuit.