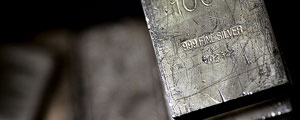 DISTRUST of the Federal Reserve and concern that United States dollars may become worthless are fueling a push in more than a dozen states to recognise gold and silver coins as legal tender.
Bloomberg
Lawmakers in Arizona are poised to follow Utah, which authorised bullion for currency in 2011. Similar bills are advancing in Kansas, South Carolina and other states.
The Tea Party-backed measures are mostly symbolic — you still can't pay for groceries with gold in Utah. They reflect lingering dollar concerns, amplified by the Fed's unconventional moves in recent years to stabilise the economy, said Loren Gatch, who teaches politics at the University of Central Oklahoma.
"The legislation is about signalling discontent with monetary policy and about what Ben Bernanke is doing," Gatch, who studies alternative currencies at the Edmond, Oklahoma-based school, said.
"There is a fear that the government, or Bernanke in particular and the Federal Reserve, is pursuing a policy that will lead to the collapse of the dollar. That's what is behind it."
Bernanke has pushed interest rates to near zero since the 18-month recession that began in December 2007. The Fed said in March it would continue buying $85 billion in securities each month in a programme known as quantitative easing that has ballooned its assets beyond $3 trillion and is aimed at keeping long-term borrowing costs low to support economic growth.
Consumer prices rose just 1,3% in February from a year earlier, according to an inflation measure favoured by the Fed. That was below the central bank's 2% target and compares with occasional bouts of more-than 10% increases in the 1970s and early 1980s.
Bets that inflation would pick up because of economic stimulus measures helped fuel a 78% jump in gold since December 2008. The dollar's rise to less than 1% below a one-year high set in July and monthly increases of about 2% or less in the US consumer price index have curbed demand for bullion.
Since reaching a record $1 923,70 an ounce in 2011, gold prices have fallen and are near a bear market. Gold futures for June delivery fell 1,2% last week, to $1 575,90 an ounce on the Comex in New York, after touching $1 539,40 April 4, a 10-month low for a most-active contract.
In Texas, lawmakers are considering a measure supported by Republican governor Rick Perry to establish the Texas Bullion Depository to store gold bars valued at about $1 billion and held in a New York bank warehouse.
The gold is owned by the University of Texas Investment Management Co, or Utimco, which took delivery of 6 643 bars of the precious metal in 2011 amid concern that demand for it would overwhelm supply.