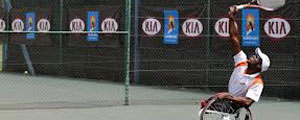 MASVINGO Province are this year's National Paralympic games champions after upstaging nine other provinces in the competitions that ended on Saturday in Gweru.
EPHRAIM SHOKO
The sixth edition of the paralympic games which started on Thursday last week saw over 1 000 athletes from the country's 10 provinces battling for honours in seven disciplines.
Masvingo won 15 gold, eight silver and eight bronze medals to total 31 medals as they claimed first position in the competitions.
The champions got their gold medals from athletics for amputees where they collected 10, hearing impaired netball (1), goal ball for the visually impaired (2) and wheelchair tennis where they won two gold medals.
The hosts, Midlands, who had dominated the last two editions of the games, surrendered their reign to come second with a total of 34 medals.
Midlands collected 14 gold, 14 silver and six bronze medals. On third position was Mashonaland West who totalled 33 medals, 10 gold, 10 silver and 13 bronze medals.
Bulawayo metropolitan province, who hosted the inaugural edition of the games in 2008, settled for fourth position with a total of 17 medals; five gold, three silver and nine bronze medals. On fifth position were Mashonaland East who totalled seven medals; five gold, one silver and one bronze.
Mashonaland East will host next year's edition after they were handed the paralympic torch by Midlands at the closing ceremony on Saturday. Matabeleland North collected 17 medals; four gold, five silver and eight bronze to emerge sixth.
On seventh position were Matabeleland South with a total of eight medals, four gold and four bronze medals.
Harare metropolitan province came eighth after collecting three gold medals, 10 silver medals and two bronze medals to total 15 medals. On ninth position were Manicaland, who had a total of 24 medals after collecting three gold, nine silver and 12 bronze.
Mashonaland Central came last with a total of 12 medals, three gold, six silver and three bronze medals.