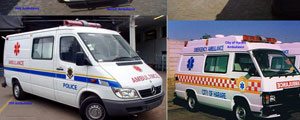 GWERU City Council is operating with four ambulances and the local authority plans to increase the fleet to nine, a senior official has said. Report by Stephen Chadenga
Deputy mayor Taurai Demo said out of the seven ambulances the city had, only four were operational.
"Out of a total seven ambulances the city has, four are running," he said.
"My council has already purchased two state-of-the-art Toyota Quantum ambulances and it is our sincere desire to acquire an additional five ambulances and bring the fleet to nine."
Demo, who was speaking at a recent official donation of fire equipment by British charity organisation Operation Florian, said the city was making frantic efforts to ensure that the fire and ambulance fleet was adequate for it to make timely responses to disasters.
He said two fire engines for a city the size of Gweru were not ideal. "Right now we have two Dennis fire engines, which were repaired and put back on the road after we procured two sets of engines and gear boxes," he said.
"The remaining two will have their engines repaired soon before we proceed to purchase an additional two so that we have the ideal fleet of six engines."
Demo said his council responded to a total of 133 emergency calls in 2012.