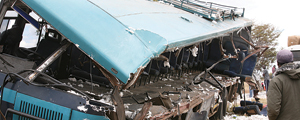 FIVE more people died on Monday, bringing to 50 the number of fatalities in 424 road accidents recorded during the Easter holidays, police spokesperson Superintendent Paul Nyathi said yesterday.
STAFF REPORTER
The five deaths were recorded in Midlands, Matabeleland South, Masvingo and Manicaland provinces.
Nyathi said this year's Easter road carnage had doubled from last year's statistics where 23 deaths occurred over the same period.  He said Midlands and Manicaland had the highest fatalities with 11 and 10 deaths respectively followed by Mashonaland East, which recorded eight deaths.
Harare and Masvingo recorded five deaths each while Mashonaland Central and West had three deaths each. Matabeleland recorded one death while Bulawayo had no fatal report.
Police said they had impounded 179 defective vehicles and issued out 8 487 tickets for various traffic offences.
In an unrelated matter, disgruntled Chitungwiza Municipality employees who have gone for the past six months without pay yesterday picketed their employer's office demanding payment of their outstanding salaries.
Chitungwiza town clerk George Makunde confirmed the industrial action, but said the finance department was addressing the issue. "We have tried to address the issue and the finance department tried to work out something," Makunde said.
One of the irate workers yesterday said: "We are demanding that we get what the council owes us because they lied that they gave us money last week for the holidays yet there is nothing in the bank. We want an explanation on what is going on here."
The local authority started accumulating salary arrears during the era of former town clerk Godfrey Tanyanyiwa who was fired over corruption charges.
Since then, the council has been failing to provide efficient service and honour most of its debts including the $8 million owed to Harare City Council for water supply.