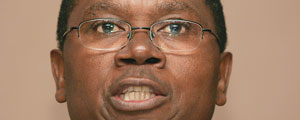 Mavambo/Kusile/Dawn (MKD) president Simba Makoni has called for the formation of a coalition "with like-minded political parties and individuals", saying this was the only way forward for Zimbabwe after the government of national unity which he described as a failure.
REPORT BY WONAI MASVINGISE
Addressing journalists in Harare yesterday, Makoni said the only way forward for Zimbabwe was to form a "grand coalition" made up of politicians and other progressive ordinary Zimbabweans.
"I am willing to work with anybody. What our party is proposing is to form a grand coalition of people with the same values, who will work together for a better Zimbabwe," Makoni said.
"We are not excluding anyone. We would want (President) Robert Mugabe to be in the coalition, that is if he is willing to be in it." The MKD leader said they would mobilise those outside the political arena who had good leadership skills to work for the good of the country.
"We also resolved in keeping with our founding principles, that we will strive to work with other people. We would like a grand coalition for change. We are motivated by positives not negatives.
We know that there are good leaders outside politics and we want to mobilise that leadership," Makoni said.
On security sector reforms, Makoni said Zimbabwe's security forces were made up of professional individuals whose leaders were pushing them to be partisan.
"I believe that the institutions in Zimbabwe are made up of professional men and women. Unfortunately, those who hold high positions in the security sector are the ones seen and heard supporting (political) parties," Makoni said.
He added: "The men and women of the Zimbabwe Republic Police, the army and even the (Central Intelligence Organisation) CIO are professional. The (Global Political Agreement) GPA states that the security services of Zimbabwe are supposed to be apolitical and, therefore, the focus should have been on leaders of the security services who are abusing their positions to drive the security forces to be partisan."