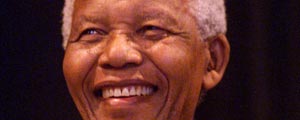 Nelson Mandela is "responding positively" to treatment after being taken to hospital with a lung infection, officials have said.
Report by The Guardian
South Africa's first black president is understood to be conscious and will remain under observation overnight. Sources suggested he had been suffering from a bad cold and was being given oxygen.
Mac Maharaj, a spokesman for the country's presidency, said: "The doctors advise that former president Nelson Mandela is responding positively to the treatment he is undergoing for a recurring lung infection. He remains under treatment and observation in hospital."
Referring to the 94-year-old by his clan name, Maharaj added: "The presidency thanks the media and the public for their co-operation in respecting the privacy of Madiba and his family."
Health scares around Mandela occur with increasing frequency and put many South Africans on edge. This is the third time in four months that he has been hospitalised.
The Nobel peace laureate was admitted to an unnamed hospital just before midnight on Wednesday, Maharaj said. "Doctors are attending to him, ensuring that he has the best possible expert medical treatment and comfort."
On Thursday afternoon TV crews set up cameras outside 1 Military Hospital in Pretoria, a likely location for Mandela's treatment. Soldiers guarded the gate and turned away journalists trying to enter the hospital.
Mandela contracted tuberculosis during his 27-year imprisonment for leading the resistance to white minority rule in South Africa. He has repeatedly had lung problems.
He has also become increasingly frail in recent years and spent a night in hospital earlier this month when he underwent what was described as a scheduled medical test.
Last December Mandela spent three weeks in a hospital in Pretoria, where he was treated for a lung infection and had a procedure to remove gallstones.
Jacob Zuma, the South African president and a fellow ex-prisoner on Robben Island, wished him a speedy return to health. "We appeal to the people of South Africa and the world to pray for our beloved Madiba and his family and to keep them in their thoughts," he said. "We have full confidence in the medical team and know that they will do everything possible to ensure recovery."
Jackson Mthembu, national spokesman for the governing African National Congress, said: "The African National Congress calls on all South Africans and the world to keep Nelson Mandela in their prayers as he has been admitted at the hospital again for lung infection treatment. We are confident that the treatment will be successful as he is in professional and competent hands.
"During these trying times we wish President Mandela well and for his family to be strong. We also appeal to all South Africans to afford Madiba's family deserved privacy."
Mmusi Maimane, national spokesman for the opposition Democratic Alliance (DA), added: "The DA is saddened by news this morning that Nelson Mandela has been hospitalised for a recurring lung infection. We hope and pray that he will have a speedy recovery.
"We know that he will be in the thoughts and prayers of many people around the world today. We wish him, his family and friends all the best in this difficult time."
Mandela, who is retired but remains a potent political symbol, last made a major public appearance when South Africa hosted the 2010 football World Cup finals.
He has since preferred to live quietly in the rural village of Qunu in Eastern Cape province, where he grew up. He was visited there in August by Hillary Clinton, then US secretary of state.
But doctors said in December that he should remain at his home in the Johannesburg suburb of Houghton to be close to the best available medical facilities.