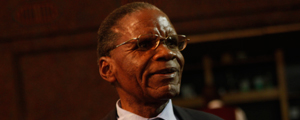 GWERU — A member of the Zimbabwe Media Commission (ZMC), Matthew Takaona, has accused ZMC chief executive officer Tafataona Mahoso of compromising the constitutional body's operations because of his dual role in the Broadcasting Authority of Zimbabwe (BAZ).
Report by Blessed Mhlanga
Besides heading the ZMC's secretariat, Mahoso also chairs BAZ. Addressing participants at an editors' and legilsators' workshop in Gweru last Friday, Takaona said Mahoso's dual positions had made the work of the commission untenable.
"If the ZMC wants to write a letter to BAZ, it is our CEO Mahoso who will write to himself as the BAZ chairman, making the situation very untenable," he said.
Takaona was responding to a question by chairman of the Parliamentary Portfolio Committee on Media, Settlement Chikwinya, on why the commission had allowed Mahoso to hold the two positions.
Contacted for comment, Mahoso said those who felt offended by his posts should raise their complaints with Media, Information and Publicity minister Webster Shamu.
"I didn't appoint myself to those positions, I was appointed by the minister," he said.
Takaona said the ZMC was also being compromised by lack of funding. "Our funding comes through the Ministry of Information and this arrangement also compromises the work of ZMC," he said.
"We have been starved of funding because the money we have received is only enough to meet salaries and other administration costs."
Chikwinya said there was need to ensure that ZMC, as a constitutional body receives its funding from the National Budget to maintain its independence.
BAZ has been accused of delaying the opening up of the airwaves to maintain Zanu PF's monopoly of the airwaves.
Zinef chairman Brain Mangwende said the workshop was meant to bridge the gap between the media and political players ahead of the elections expected to be held in June or July.