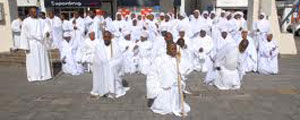 THE Association of Apostolic Churches in Zimbabwe (AACZ) has pledged to ratchet up support for President Robert Mugabe and Zanu PF ahead of harmonised elections likely to be held this year following reports that the party's support in Matabeleland continues to plummet.
Report by Pamela Mhlanga
"We are pained by the fact that the President is not receiving much support from Matabeleland although he is supposed to be respected just like any other king and ruler of a land," AACZ Matabeleland chairperson Josiah Ndlovu told NewsDay last week.
Ndlovu said the association had started engaging other apostolic churches in Matabeleland to rally behind Zanu PF.
"We support the President and the party as a whole. The kings of the land must be supported and respected such that even if something happens tomorrow or the future looks uncertain, people would still remember fondly their kings. The President would be remembered as a leader who brought land and independence for his people."
Last month during the AACZ meeting at a local hotel in Bulawayo, the association pledged its support for Mugabe and Zanu PF and rebuked church leaders who have prophesied the death of the veteran politician.
Zanu PF has not won a seat in Bulawayo since 2000 although it managed to get isolated seats in Matabeleland South and North. The party has targeted churches across the country in an effort to win worshippers' votes during this year's harmonised elections.