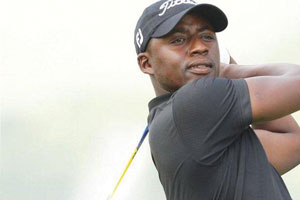 PREPARATIONS for the 2013 edition of Golden Pilsener Zimbabwe Open gather momentum tomorrow when entries open for the country's most prestigious golf tournament. REPORT BY DANIEL NHAKANISO This year's national open, which is co-sanctioned by the Sunshine Tour, will tee off on Independence Day on April 18 at Royal Harare Golf Club with a field of 156 golfers expected to battle it out for top honours.
The Zimbabwe Open Golf Committee (ZOGC) secretary Mike Mahachi, who is also the tournament director, yesterday said: "Preparations for the Golden Pilsner Zimbabwe Open have been going on very well. The Sunshine Tour has already included the tournament on their schedule for upcoming events.
"Entries for both the exempt and non-exempt players hoping to play in the tournament will open on Friday (tomorrow) and we are expecting over 150 players to enter."
Mahachi revealed that 18 slots had been allocated to the Golden Pilsener Zambezi Tour which will give them automatic entry into the national open. This means more locals will have a chance of playing in the open without being required to play in the pre-qualifying round.
The country's premier golf tour, the Zambezi Tour which came into existence in 2011, has provided a platform for local professionals to play competitive golf by organising several tournaments around the country.
Some local players who will be expected to do well on home soil include Ryan Cairns, Tongo Charamba, Ignatius Mketekete and Brian Gondo, who was a revelation on the local tour last year.
The fourth edition of the revived national open co-sanctioned by the Sunshine Tour will offer a richer purse of R1,65 million, up from last year's R1,5 million.
A pre-qualifying tournament will be held on April 14 at Chapman Golf Club where the remaining 26 slots will be up for grabs.
ZOGC have also organised two pro-am tournaments on the two days preceding the start of the Open on April 18.