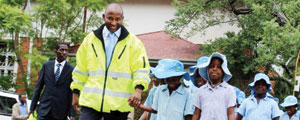 THE Traffic Safety Council of Zimbabwe (TSCZ) yesterday unveiled four traffic safety ambassadors for the southern region as it pledged to reduce the number of road traffic accidents in the country by 50% within a decade.
Report by Khulani Nkabinde
Addressing stakeholders at the ceremony that was held at a hotel in Bulawayo, Munesu Munodawafa, the permanent secretary in the Ministry of Transport, Communications and Infrastructural Development, said the government made the pledge under the United Nations' Decade of Action for Road Safety 2011-2020.
"As a country, we have committed to reduce the number of road traffic accidents by 50% within the decade," he said.
Munodawafa said the coming on board of traffic safety ambassadors was part of the initiative.
"Government alone cannot win the war against road carnage, hence the concept of traffic safety ambassadors," he said.
The four traffic safety ambassadors who were unveiled yesterday were musicians Sandra Ndebele-Sibindi and Majahawodwa "Jeys" Marabini as well as veteran footballers Rahman Gumbo and Peter Ndlovu.
"The ambassadors will reach out to Zimbabweans as they are faces we are all familiar with," Munodawafa said. "We have approached people who have accepted that they would like to assist the country and save lives that could be lost."
He said the ambassadors also came against the backdrop of a "terrible festive season" that left 228 people dead due to road accidents countrywide.
A total of 1 476 accidents were recorded over the last festive season in comparison to 1 399 during the same period in 2011. "We believe most of the accidents could have been avoided," Munodawafa said.
Speaking on behalf of the newly-appointed traffic safety ambassadors, Ndebele-Sibindi said they would take the task with the seriousness it deserved.
"We accept the honour and we promise that we will sensitise the people of Bulawayo, Matabeleland and Zimbabwe as a whole about the need for traffic safety on our roads," she said, adding that she would no longer drive while talking on her mobile phone.