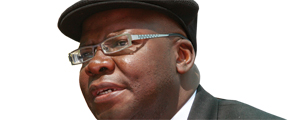 FINANCE minister Tendai Biti says the ongoing income tax reforms will plug revenue leakages in the mining sector following concerns that diamond companies are not remitting what is due to the government.
Report by Veneranda Langa
Biti last week made startling revelations of how mining companies where the government had 50% shareholding, were avoiding remittances to the government.
The figures Biti outlined before Parliament showed that several diamond mines where the government was entitled to 50% of income at gross level were not honouring their obligations.
Mutare South MP Fred Kanzama had asked Biti to explain if mining companies like Murowa, River Ranch, Unki, Zimplats and Mimosa were remitting funds to the government.
"The mines at Marange are paying royalties and corporate tax, but the bone of contention lies with the dividends because the difference between mines like Murowa, Mimosa and Zimplats with mines like Anjin, Mbada and Diamond Mining Company, is that the government owns 50% of those companies," Biti said.
"On royalties last year, we got $47 million, but listen to this; diamond exports last year in 2012 were $711 million and from that we should have got $300 million, but we only got $47 million," he said. Biti said Mbada Resources in 2012 got $300 million and should have remitted $150 million to the government.
Marange Resources got $64 million and the government was automatically entitled to $34 million.  Anjin Investments got $200 million and $100 million was due to the government.
Other mines included the Diamond Mining Corporation which got $91 million and half of that was supposed to go to the government. "We are being ripped off," the minister said.
"The capital that the investor puts in Marange is unlike that of mines like Zimplats where one needs $400 million to start mining diamonds.
"In Marange minimum investment is required because they are alluvial and you can start mining with your shoes."
Biti said the problem was with the tax laws in Zimbabwe which had many expenditures and rebates.
"This is one of the reasons why we are coming up with a new Income Tax Act and we will be removing about 34 schedules that offer incentives, protection or rebates to the mining sector," he said.
The Income Tax Bill recently went into First Reading Stage in the House of Assembly and is now before the Parliamentary Legal Committee,  which will check if its contents do not contravene the Constitution of Zimbabwe.