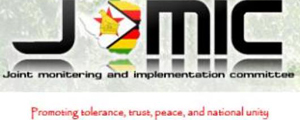 GWERU – MDC members in Lalapanzi have appealed to the Joint Monitoring and Implementation Committee (Jomic) to stop their eviction from a chrome mining compound by a senior Zanu PF official in the area.
Report by Stephen Chadenga
The MDC members yesterday claimed their eviction from Netherburn Mine by a former secretary of security for the disbanded Zanu (PF) district co-ordinating committee, Simon Sigauke, was politically motivated.
"We have since turned to Jomic as we fear that we might be evicted from the compound," an MDC member, who declined to be named for security reasons, said.
The party's Midlands South provincial Jomic co-chairperson Ndumo Moyo confirmed receiving complaints from party supporters.
"The supporters phoned asking Jomic to intervene in the matter. I advised them to write a formal letter to Jomic and also to make a police report," Moyo said.
But Sigauke, who is also Zanu PF vice-chairperson for Lalapanzi, dismissed allegations that he was targeting MDC supporters, claiming he had been contracted by the mine owner, Zimbabwe Alloys, to collect outstanding rentals from tenants at the compound.
"There are about 700 tenants at the compound and some have gone as far as 42 months without paying rentals of $10 per month. So we are engaging them to map the way forward (in possibly) coming up with a payment plan for their arrears," he said.
He added that the clampdown had also affected Zanu PF supporters.
A letter dated December 20 2012, confirmed that Sigauke had been engaged by Zimbabwe Alloys to collect rentals on behalf of the company in return for a 5% commission.
Part of the letter reads: "You have been offered a rent collection contract and to manage rented houses at Netherburn village. Your duties include collecting monthly rentals and arrears accrued."