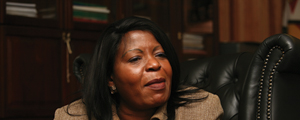 GOVERNMENT has condemned the continued illegal detention of foreign nationals in Zimbabwe's prisons saying it was tarnishing the image of the country and must stop.
Report by Moses Matenga
In an interview with NewsDay on Friday, Home Affairs co-minister Theresa Makone said she was now following up on the cases of illegal detention of foreign nationals to ensure they are deported to their respective countries.
"I am following the issues up and I will come up with definite answers. It's sad that we detain people we can't send to their countries. It is abuse of people's freedoms," she said.
Her comments follow the detention of a Nigerian football star Uneke Afamefuna Chukwunonso (25) who was acquitted by a local magistrate on Friday and several others who remain in Zimbabwe's remand prisons.
Chukwunonso, who had come for trials with Dynamos Football Club, wept uncontrollably in court last week after he was acquitted of contravening immigration laws.
Another footballer, a Cameroonian national Fils Brice Pierre Eto'o, who claims to be related to world icon and former Cameroon captain Samuel Eto'o, is languishing at Harare's Remand Prison after his alleged prospective employers Gunners Football Club left him in the cold. Zimbabweans yesterday blasted the country's immigration laws, saying they tarnish the country's image.
Commenting on social media, Alph Mutabeni said: "First Eto-o, now Oga. Guys this is killing our country's image. Something needs to be done urgently. Better they don't come to Zimbabwe at all than this." Munyaradzi Hillary Chokuda said: "How do you feel if this is your son? Let's treat others the same way you would want yourself to be, imagine Denver Mukamba in such an incident."
A Harare magistrate Rebecca Takadii ruled Chukwunonso had not breached the law since he had a valid visa into Zimbabwe and was arrested by overzealous immigration officials who thought he had a case to answer.