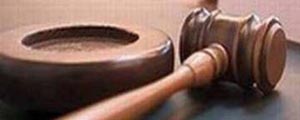 GOSPEL musician Bishop Samuel Ollah Juru is embroiled in a legal battle with a Chivhu businessman over a commercial complex known as Dirozvi.
Entertainment Reporter
Juru is the owner of the Chivhu complex and he is at loggerheads with Arnold Teera, who now occupies the premises.
In a case that was heard at Chivhu Magistrates' Court recently, Teera accused Juru of unfairly making him inherit outstanding utility bills (water and electricity) amounting to an excess of $13 000 outside the lease agreement.
Teera is the defendant in the case in which Juru is seeking to evict him from the complex for failure to pay rent since August 2012. In his closing submissions for the case, Teera argued that he had to fork extra money besides the $7 000 monthly rental rendered to Juru between June 2012 and August 2012 towards the outstanding bills.
Teera says he had to pay for the reconnection of water and electricity to start running the complex, which houses a supermarket, bottle store, restaurant and lodges.
He further agues that his business was not financially stable, forcing him to approach Juru with a proposal of a staggered payment plan for rentals that the latter did not accept. On the other hand, Juru argued that Teera had to be evicted because his rental arrears exceed the outstanding utility bills that the latter inherited at the complex.
In his judgment, the magistrate stated that Juru could not evict Teera from the complex for failure to pay rentals two months (August and September 2012). The judgment states that it defies logic that Teera would have been required to pay about $13 000 for the bills he did not accrue.
Juru has now filed an appeal with the High Court challenging the magistrate's failure to address issues pertaining to the outstanding rentals between August and November 2012 when he sought to evict Teera.
Juru says Teera only paid $5 000 and $2 000 for August and September 2012 respectively and failed to pay anything thereafter yet he still occupies the complex.