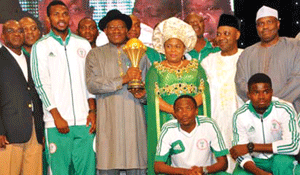 ABUJA — Newly-crowned African champions Nigeria's Super Eagles were the beneficiaries of financial and land gifts as well as national honours.
Supersport
Nigeria President Goodluck Jonathan announced the reward at a special reception in Abuja in honour of the Super Eagles on Tuesday for winning the 2013 Africa Cup of Nations.
Jonathan announced a N10 million ($63 677)reward for Nigeria head coach, Stephen Keshi and N5 million ($31 838) for each of the 23 players and N2 million ($12 753) for other officials. The Nigerian President also gave every member of the victorious team a plot of land in the nation's capital, Abuja.
Keshi was also bestowed with the nation's second highest national honour of Commander of the Order of Niger (CON) while team captain Joseph Yobo and the assistant coaches got Officer of the Order of the Niger (OON). The other players were awarded with the Member of the Order of Niger (MON). The Super Eagles emerged African champions in Johannesburg when they defeated the Stallions of Burkina Faso by a goal on Sunday.
Related Topics