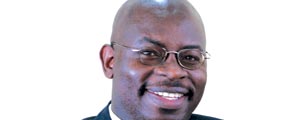 In the very first instalment of the Financial Sector Spotlight (FSS) in June 2010, I remember saying that I would use this column to discuss, among other things, the basics of exporting and importing as well as the nature of, and access to trade finance instruments.
Financial Sector Spotlight with Omen Muza
The idea was that as a trained international banker privileged with access to influential public media, I should occasionally share my thoughts on this technical area in order to demystify it for the readers of this column.
Regrettably, I have not honoured my promise as I have tended to look at other less technical, but perhaps more appealing areas of banking. It is with some measure of relief therefore, that this week I finally attempt to make amends by turning to trade finance, with the intention of being more faithful to my promise going forward.
What's a good place to start, having neglected the area for so long? An attempt to define trade finance would probably be the most logical departure point.
Basically, trade finance is about the financing and facilitating of local and international trade. Sometimes all sort of transactions are dressed up as trade finance when they are not really financing a specific trade flow and they have no focus on any underlying goods.
True trade finance, however, is about funding specific, tangible goods. Trade finance provides fluidity and security to the movements of goods and services in international markets.
There are many definitions of trade finance, but the one I prefer is "the provision of a full range of operational, credit and financial services designed to assist customers in financing the manufacturing and delivery of goods" in domestic and international markets. Trade finance may include pre-shipment finance, post-shipment finance, inventory finance, credit protection and collection services.
Some instruments common in trade finance include letters of credit (lcs), documentary collections (dcs), business payment obligations (BPOs), factoring, Forfaiting as well as Guarantees and Export Credit Insurance (ECI). In future installments of FSS, I will focus on some of these, but for now let me turn to the event that inspired this article.
Africa Trade Finance Week 2013, incorporating the 7th Annual Africa Trade & Export Finance Conference, takes place in Cape Town on March 4-6, 2013.
Now firmly established as the premier trade finance gathering, in the sub-region the event will attract around 250 delegates who will deliberate on the changing funding priorities and requirements of African companies as they continue to grow their trade flows. Strong focus will also be placed on the role of Africa's huge commodity resources, as well as the continuing need for infrastructural development.
The 6th of March 2013, which is the third and final day of the conference, will feature a panel discussion titled "Highlighting trade and investment challenges and opportunities in Zimbabwe" which will be moderated by the writer of this article and seeks to change investors' perception of doing business in the country, given the huge gap between perception and the reality on the ground.
Some of the issues to be discussed include the impact of the new capital level levels on the availability of trade finance in a liquidity-constrained market and on the structure of the banking sector; the role of the proposed Commodity Exchange in facilitating farmers' access to finance; how the banking sector is positioning itself to finance a mining sector on the forefront of both recovery and growth efforts; as well as the role of a credit reference bureau in changing the risk matrix against the background of the rising spectre of credit default.
Distinguished panellists include Francois Molife, Managing Director of Kingdom Bank; Gift Simwaka, Regional Manager of Afreximbank; Babajide Bode-Harrison, Assistant Director of Structured Trade and Commodity Finance at FBN Bank as well as Kenias Mafukidze, Founder & Chief Financial Architect of KM Financial Solutions.
The event, which is organised by the Exporta Group, also incorporates the GTR Africa Leaders in Trade Awards for 2012, under which PTA Bank will be accepting the best local trade finance bank for Zimbabwe; a risk decision-making workshop and the GTR Africa Roundtable discussion in which I will take part.
Feedback: omen.muza@gmail.com. Omen N Muza writes in his personal capacity. He is a banker and managing director of TFC Capital (Zimbabwe) (Pvt) Ltd, a Harare based financial advisory, research and training company with interests in banking, mining and agriculture as well as the convergence area amongst them.
Related Topics