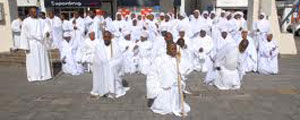 FIVE Johane Masowe Apostolic sect members accused of assaulting two church members accusing them of prematurely ending a prayer session have been acquitted by a local magistrate.
Report by Silas Nkala
The five, who included church leader Advance Magore (38) of Mahatshula North, Norman Tanyanyiwa (38), Felix Machisa (39) of Fairbridge Police Camp, Jeremiah Warikandwa (42) of Llwellyn Army Barracks and Evidence Magore (24) of Mahatshula North, were freed on Tuesday after the court dismissed the witnesses' evidence.
In discharging them, Bulawayo magistrate Merylin Mtshina said the witnesses gave contradictory evidence.
The State had built its case around evidence provided by George Muzuwe of Northend and Tawanda Chapungu of Mahatshula who were also the victims of the alleged attack and Melody Chimombe, a church member who said she was present during the scuffle.
The trio had alleged that they had been assaulted for prematurely ending a prayer session on December 9 last year.
Muzuwe said he was now experiencing chest problems, while Chapungu told the court he had to seek treatment at United Bulawayo Hospital following the attack.
"Given the evidence they (witnesses) gave, we would expect serious injuries on them considering the claims that five grown up men trampled on them," Mutshina said.
"They were exaggerating to the extent of lying in court. Accordingly, I find them not guilty and acquit them."