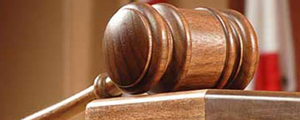 Zanu PF member and businessman Jonathan Kadzura has been accused of violent behaviour by his wife of 22 years, Kholiswa Kadzura nee Ncube who has approached the courts seeking a protection order against him. STAFF REPORTER
In her exparte application dated December 5 2012, Kadzura's wife accused him of violating her peace by seeking to push her out of their matrimonial home at Althelney Farm in Ruwa.
Kholiswa was granted the interim protection order the following day but the court gave Kadzura 10 days within which to file opposing papers.
NewsDay understands that Kadzura had not filed opposing papers by yesterday.
Part of the order reads: "The respondent (Kadzura) concerned has been served with or has had notice of the interim protection order. There are reasonable grounds for believing that the respondent has committed; is committing or is threating to commit a breach of the interim protection order and that it is necessary or desirable to arrest the respondent in order to protect the complainant from serious or substantial harm, discomfort or inconvenience."
Kholiswa claimed in her founding affidavit filed through her lawyer Musindo Hungwe that her marriage was solemnised in terms of the Marriages Act and the couple was blessed with three children although Kadzura was now staying with another wife.
"For the past 22 years respondent has always exhibited violent behaviour and I have endured same. I have always wanted to live as a married woman and cherished to see my children growing with their father," read Kholiswa's founding affidavit. "The respondent is staying with his second wife on the same farm in another house. This is so despite the fact that our marriage still subsists."
Kholiswa said sometime in May 2012, Kadzura asked her to move out of the house, but she had a minor child who had to write "O" level examinations hence he called off the eviction.
"Immediately on the 1st of December 2012 after the minor child had finished writing his "O" Level exams again the respondent came to the house and asked me to vacate the premises. He also promised that he has already organised for a removal company (sic) to carry my property out. He has not provided for any alternative accommodation. I am afraid that the eviction is very imminent. I do not have anywhere to go together with the children," Kholiswa said in her affidavit.
"The respondent has always been violent and I am afraid if he is served with this application and given notice he will turn violent and I will be vulnerable. I therefore pray that the interim relief be granted such that I am protected."