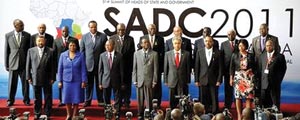 THE problematic issue of overlapping or multiple memberships between members of regional economic communities (RECs) can best be overcome by incorporating trade agreements onto a global scale, the World Trade Organisation (WTO) has said.
Report by Kudzai Chimhangwa Business Reporter
Overlapping memberships have been cited as a major factor that has fuelled trade disputes, tariff confusion, market fragmentation and escalating costs of doing business as each country seeks to advance its own economic interests.
WTO director for information and external relations division Keith Rockwell said that this was the reason why nearly 85% of world trade takes place under WTO tariffs and only a quarter of Asian firms choose to trade under the terms of preferential trade agreements (PTAs.)
"This is not only true in Africa, but also in Latin America, Asia and even in Europe and North America," he said.
"The answer is to find a way to multilateralise regional and bilateral accords.
"It doesn't really make sense to open your market regionally and not globally, but in the economic and geo-political circumstances of today, there seems to be a strong preference for PTAs rather than global deals."
Regional engagements are already in place on the African continent, namely the Common Market for Eastern and Southern Africa (Comesa), Southern African Customs Union (Sacu), East Africa Communities (Eac), Southern African Development Community (Sadc) and most countries are members of more than one such grouping.
Zimbabwe, for instance, is a member of Sadc and Comesa, Botswana belongs to Sacu and Sadc while Kenya is signatory to Comesa and the Eac.
The World Bank estimates that between 40% and 60% of world trade occurs within regional trading blocs.
Trade experts contend that from a legal point of view, a country cannot apply two different common external tariffs and should not seek individual exemptions, but cooperate in efforts to negotiate new arrangements between concerned RECs.
Rockwell's recommendations on the importance of multilateralism come against the background of a surge in global trade disputes last year, which witnessed 26 being filed, the most since 2003 and three times more than the eight new complaints filed in 2011.
"In the past, governments tended to settle disputes unilaterally, provoking tit-for-tat responses and an escalation of trade restrictions," he said.
"There was no multi-lateral process, no transparent and predictable set of procedures for the resolutions of disputes creating tensions beyond trade.
"Now there is a clear-cut, highly respected system for the resolution of disputes, members are using it and commercial hostilities have been kept in much better check as a result."
Rockwell pointed out that at times of economic difficulties facing the globe, trade tensions and disputes were inevitable.
The high rate of unemployment in Europe and North America has led to more pressure towards taking protectionist stances with trading partners.
"Fortunately, this has not happened to any great degree," Rockwell said.
"Our semi-annual monitoring reports indicate that at no point have governments imposed trade restrictive measures that cover more than 1% of global imports."
However, key topics such as trade facilitation, special and different treatment (S&DT) agriculture, least developed country (LDC) issues and dispute settlement made remarkable progress at the WTO negotiations last year, while negotiations on services barely moved.
"One important question is how, and perhaps whether, these negotiations will be folded into the WTO's multilateral framework," he said, adding that progress is being made in areas where political resistance among the membership is less fierce.