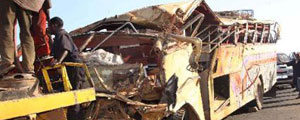 THE festive holiday accident death toll has risen to 180, up from the previous day's record of 172 people.
Staff Reporter
National police spokesperson Superintendent Andrew Phiri yesterday described this festive season as the bloodiest as compared to last year where 147 accident-related deaths were recorded over the same period.
"The number of people who have died during the holiday from accidents has risen to 180 and 901 people have been injured," Phiri said.
He said police issued 13 278 tickets for various traffic offences and impounded over 1 000 unroadworthy vehicles.
"We appeal to motorists, especially of public service vehicles, to desist from carrying excess passengers. The major challenge that we have of vehicles which will be having excess passengers is that when they are involved in accidents, they kill more people," he said.