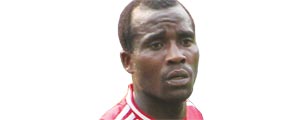 THE house that Takesure Sibanda and Harrison Matimati built has crumbled. REPORT BY EPHRAIM SHOKO SPORTS CORRESPONDENT
Sibanda and Matimati are founders and directors of former Premiership side Hardbody who were last season booted out of the top-flight league after lasting only a season.
Reports from Gweru indicate that the club, which was relegated to the unfashionable Central Soccer League (CSL), has folded and will not be part of the football family this coming season.
Sources privy to the goings on at the Gweru-based team said the club's directors have thrown in the towel and are flogging the club's CSL franchise for as little as $200.
Sources said Sibanda and Matimati, who sponsored the club through their bus company T&H, felt the club had sapped the company of its resources and was a burden.
"They (Sibanda and Matimati) are no longer interested in sponsoring that team. It has become a burden for them and their debut season in the Premier Soccer League put a strain on their coffers, hence the decision to sell the club," a source said.
It has also emerged that the club has been hit by a massive player exodus with three quarters of the players who did duty for the team last season having left to join other clubs in the Premier Soccer League and lower division leagues.
Some notable players who have left the club are midfielder Stephen Alimenda who has joined champions Dynamos and striker Jacob Muzokomba, reported to have returned to Swaziland.
Hardbody spokesperson Wellington Ngulube revealed that the club had just seven players left with running contracts. "Yes, I can confirm that there are some players who have left the club, but that is not reason to suggest that we are folding. Most of the players who left did so because their contracts had expired.
"Only seven players still have running contracts beyond December 2012 and we shall be building around those.
"We also hope to pen new deals with some of the players whose contracts have run out and that is part of what we will discuss when we meet as a executive on the 6th of January," Ngulube said.
Meanwhile, the source at Hardbody also revealed that the club still owes players huge sums of money in unpaid bonuses, salaries and signing-on fees from last season. The source added captain Brian Juru, his deputy Calisto Maheya and another unidentified player, were last week manhandled by the club's marshals when they confronted one of the club's directors, Sibanda, to demand their dues.
Ngulube could neither deny nor confirm the incident.
"I'm not aware of that incident and I can neither confirm nor deny it. I was away during the said period and would need to check with Sibanda first. What I can only confirm is that some of the players are yet to be paid their dues and as a club we are working on that," he said.
Sibanda could not be reached for comment on the issue involving the three players and the club marshals.