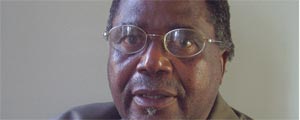 MASVINGO governor Titus Maluleke last week revived his onslaught against non-governmental organisations (NGOs) and threatened to eject NGOs found meddling in political issues. REPORT BY TATENDA CHITAGU OWN CORRESPONDENT
Maluleke caused an international storm last year after he banned 29 humanitarian organisations from the province accusing them of pursuing a political agenda and refusing to register their activities with his office.
But critics said the move was meant to silence critical civic society groups ahead of elections likely to be held this year.
Garikai Mukura, programmes co-ordinator of the Community Tolerance for Reconciliation and Development told NewsDay  that Maluleke, last Thursday, summoned 45 civic society groups to a closed-door meeting at his Benjamin Burombo Building offices where he allegedly read the riot act at those refusing to tow the Zanu PF line.
Maluleke had allegedly organised the meeting to review the memorandum of understanding signed by each of the NGOs operating in the province.
At the meeting, Maluleke allegedly ordered 43 of the NGOs to present reports of activities they carried out last year. "He was bullying us, revoking the sad memories of last year where we were banned," Mukura said.
"He consistently told us not to interfere with electoral processes and the politics of this country, saying he was watching over all our activities.
"He banned all election programming and said all aid programmes should be conducted with relevant line ministries.
"This means that the net and operating environment for non-governmental organisations in Masvingo is being closed down by the resident minister in what we interpreted as a political move as the country gears for general elections."
Although Maluleke could not be reached for comment, southern regional chairman for the National Association of Non-Governmental Organisations, Silvester Chin'anga, confirmed the development, but declined to give details.
"There was a meeting and some threats, but I am no longer authorised to talk to the Press due to protocol," he said.
"Our communication is now being done at national level."