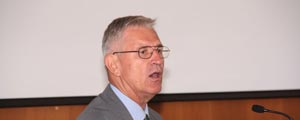 GERMAN Ambassador to Zimbabwe Hans Gnodtke has warned that his country might pull out of the United Nations World Tourism Organisation (UNWTO) General Assembly set to be held in Victoria Falls in August if government does not guarantee protection of its nationals' investments under the Bilateral Investment Promotion and Protection Agreement (Bippa).
REPORT BY MOSES MATENGA STAFF REPORTER
Addressing reporters at the German Embassy in Harare yesterday, Gnodtke said tourism was collapsing because of government's failure to protect Bippas investments.
"We hope the UNWTO will be a success. We are yet to make a decision on whether or not to participate (but what is happening) can affect Zimbabwe's successful hosting of an international meeting. We hope common sense will prevail and the meeting will be a success," he said.
He said several years ago, Zanu PF and President Robert Mugabe invited German investors to invest in the country promising protection, but were now reneging on their promises.
"It began when Zanu PF and Zanu PF alone was in charge. Many were invited by people, including President Mugabe who came to Germany and promised to protect the conservancies. What my office has to do is to make sure that the agreements under Bippa are followed."
He said recent assurances by Lands and Resettlement minister Herbert Murerwa that investments under Bippa would be spared would remain just a statement until government acted to protect Bippa agreements.
Murerwa recently announced that government had stopped seizure of foreign-owned farms under Bippa.
Responding to reports that his government was under fire for funding the translocation of animals from the Save Valley Conservancy (SVC) to Gonarezhou TransFrontier Park, the German envoy dismissed the reports as "nonsensical".
"This is utter nonsense. Germany has been approached by Peace Park Foundation, a South Africa-based organisation which was co-founded by former President Nelson Mandela, and they have suggested that since we have overpopulation of species and underpopulation in Gonarezhou, the logical thing will be to transfer other animals to Gonarezhou," he said.
German Minister of Economic Co-operation Dirk Niebel last year met Vice-President Joice Mujuru and Prime Minister Morgan Tsvangirai, among other senior government officials, to discuss among others the SVC issue.