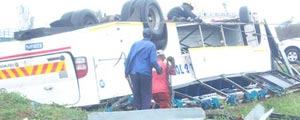 THE festive season road accident death toll has continued to rise despite the heavy presence of traffic police officers on major roads with 210 people reported to have died as of yesterday.
Report by Feluna Nleya Staff Reporter
National police spokesperson Superintendent Andrew Phiri said two people died in separate accidents bringing the death toll to 210, up from the previous day's 208.
This year's festive season has been described as the worst over the past few years with police attributing the high rate of accidents to an influx of cars, negligent driving, excessive loading and a poor road network.
"The death toll is now at 210 and 1 053 people were injured in 114 accidents since the start of the festive season," Phiri said.
He said accidents which had occurred on the countries roads were now at 1 353.
Eight people died on Saturday when the bus they were travelling in veered off the road and overturned at Cement Siding on the outskirts of Bulawayo. The accident, which involved a Botswana-bound Jay Jay Travel and Tours bus travelling from Harare, left 57 others seriously injured.
A total of 147 people died in road accidents over the same period last year.